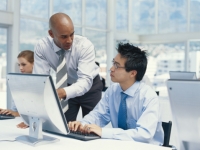 There are various definitions on what 'sweating the assets' means, but in the main we consider it in terms of cutting costs, maximising the capabilities of your current systems and fully utilising the skills of your personnel. With budgets tighter than ever before, businesses are under even greater pressure to make cut backs to outlays.
As a result, businesses are faced with a key challenge; finding the balance between cutting back where necessary, but not to the detriment of future business growth or their ability to gain leverage over competitors.
This balancing act is pivotal when it comes to a business's IT systems. After all, in today's challenging climate the quality and efficiency of IT is critical to business success. It can be the one element that sets an organisation apart from its competitors, helps to win business and optimise productivity. It is therefore essential that businesses ensure that incumbent IT systems work effectively and efficiently.
What makes this more complicated for businesses is illustrated in a research study we undertook with Dynamic Markets1 [0], which found 46 per cent of IT managers think the required skill set for staff has changed. Therefore, some businesses find themselves in a position where they don't have the strategic skills in-house to help to get the most out of their IT systems. Over 40 per cent also told us they do not have sufficient resources to support their existing IT systems.
The feedback came from over 100 interviews which were undertaken with IT managers in medium to large organisations across the country. We discussed the changing nature of IT in their sector and not having sufficient resources to support the IT function was a frequent concern.
Sweating assets
With restricted budgets meaning that businesses do not have the funds to invest in new systems, and limited resource resulting in current IT systems not being efficiently supported, it is no surprise many businesses fail to maintain software.
To address this, businesses must look at ways to keep their company competitive by carefully considering the most economical resource solution to ensure systems are fully supported and in turn can operate at an optimum level.
Analysing the efficiency of your organisation's legacy software can be achieved cost effectively through technical audits or system health checks, which provide vital insight into how to improve performance. Once the system has been analysed recommendations will ensure systems are fully supported and can operate at an optimum level.
With IT managers citing a lack of in-house strategic skills as a key issue, support in this area can be achieved through outsourcing the IT function, or body shopping, where a business loans the technical expertise of an organisation's employee. It can be something that is provided over a short term or longer term period depending on what priorities businesses have and what capabilities they have in-house.
Legacy systems can be a drain on the resources of IT departments and the challenge of managing such technologies is a constant battle. By outsourcing system support the strain on a business' internal team will be eased so they can focus on other core activities, whilst also ensuring IT systems are fully supported, to guaranteed SLAs. Ultimately this will improve performance and reduce the cost of running the business, providing peace of mind and more time to focus on what the business does best.

Without the resource to support systems, software becomes dated which puts organisations at risk and greatly increases the potential for system failure. In a worst case scenario, this can introduce turmoil into the company, with huge repercussions in terms of lost sales, revenue, custom and reputation. All of which are hard to win back. It is therefore essential businesses act now to ensure current systems have the support required, to ensure the long term success of the business.