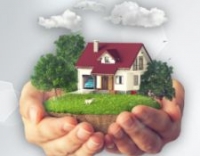 Creating a great opportunity for both private homeowners and landlords to insure their properties below the previous market rate.
According to [1]Insurance Age [2], home insurance premiums decreased by approximately 0.4% over the year to October 2018, despite a minor increase in premiums in the months prior as a result of increased winter claim costs.
The data was sourced from a recent Consumer Intelligence report, which dug into the average amount spent by UK homeowners on insurance.
The reduction in premiums is good news for homeowners, many of whom might be able to lock in lower rates by switching providers. It's also a good opportunity for landlords, as factors such as competition could make services like landlord home emergency insurance [3] more affordable.
As expected, the highest home insurance rates are found in London, where factors such as high property costs and increasing crime rates have contributed to higher premiums for homeowners and landlords.
John Blevins, a pricing expert at Consumer Intelligence, pointed out that burglary tends to have the greatest impact on insurance prices in urban areas. Despite this, factors such as improved home security systems could potentially lead to a long-term reduction in residential burglaries.
Newer homes, including homes built after 2000, tended to have the most affordable insurance premiums, potentially indicating that modern security measures play a major role in preventing burglaries and break-ins. 
Home insurance premiums increased by 2.8% in London, making the urban area an expensive option for homeowners. On average, homeowners in London pay approximately 48% more for home insurance than homeowners in the North East and Wales.
Prices also increased in the East Midlands, with homeowners in the region noticing an average 1.7% increase in their insurance bills.
Despite this, regions such as the North East and Wales experienced significant drops in home insurance pricing, helping to contribute to the 0.4% national reduction. Premiums fell 2.6% over the last year in the North East and an incredible 4.3% over the year in Wales.
Other factors that could have contributed to the recent reduction in premiums include temporary increases during the summer caused by subsidence incidents, which increased by 20% or more in areas such as the South East [4].
With prices down slightly from one year ago, both homeowners and landlords might benefit from comparing insurance providers and searching for deals.
Over the long term, many insurance providers can walk up prices through a 'loyalty penalty' [5] -- a form of price inflation charged to customers over the long term. Homeowners who've been with an insurance provider for more than five years are the most at risk of price inflation.
Other options for homeowners and landlords include comparing insurance deals online. Many of the top insurance comparison websites list rates from multiple insurers, making it easy to price shop for the best deals.
Although the current minor downtrend in pricing is great news for price-conscious homeowners and landlords, it might not be permanent. By acting quickly and making the most of deals from insurers, savvy homeowners and landlords could lock in more competitive premiums for 2019.