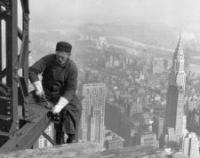 We'd all like to believe that we'll live forever. In fact, when we're young and healthy and in control of our own careers or businesses and our own destinies we can feel darn near indestructible. But the simple truth is that even though we may be in peak health and in our physical prime, we still need to protect those closest to us. That's why everyone, young and old, employed or self-employed should consider getting a life insurance policy. It's the best way to ensure that your significant other and any children you share will be insulated from the risk of losing your home or their financial stability.
Yet, while life insurance is an essential for virtually everyone, it's not as easy to come by for everyone. When assessing life insurance applications, underwriters need to know the risks that the applicant faces on a regular basis. These risks will inevitably have a knock-on effect on the cover they can provide and the premiums policyholders can expect to pay.
There are a number of occupations and careers which the insurance industry deems high-risk or hazardous. These might mean that you get much less reasonable quotes than your peers while some insurers may not even offer to cover you at all. Fortunately, with a little knowhow, even those with occupations deemed risky can get great cover at a reasonable premium while giving their loved ones complete peace of mind.
How do I know if an underwriter will deem my occupation high risk?
Of course, when you're well trained and good at your job, you may not perceive risks in the same way as a risk-averse insurance underwriter. If you want good business protection that will cover you while you're doing what you do best, it's important to think from the insurance company's perspective.
The following make up jobs, businesses and careers that they consider risky;
●      Jobs that require regular heavy lifting.
●      Jobs that require regularly working at heights over 12 metres.
●      Jobs that necessitate high car mileage.
●      Working underground.
●      Working underwater.
●      Hazardous working environments like building sites.
●      Work with hazardous chemicals.
●      Working with explosives or pyrotechnics.
●      Working with heavy machinery.
●      Working abroad or travelling regularly.
What occupations are deemed highest risk by insurance underwriters?
When looking for good business protection, it's important to know whether or not your business is categorically deemed high risk by the insurance industry. Generally, insurance underwriters consider the following high risk occupations;
●      Builders / Construction workers
●      Security guards
●      Armed Forces
●      Long distance or commercial drivers
●      Emergency services
●      Engineers
●      Pilots
●      Professional athletes
●      Offshore workers
●      Scaffolders
●      Tree surgeons
So, how do I get reasonable cover if I work or own a business in these industries?
It can be frustrating when you work in a risky or dangerous occupation to find the right cover. But there are still ways in which you can get a great deal without compromising on cover. Here's how...
Choose the right products for your needs
When you work in a risky industry or occupation it's essential to get the right products to ensure that you're fully covered. If you are self-employed, for example, it's especially important that you get a policy with the self-employed in mind, because you won't have an employer's cover to supplement your policy.
If you share a business in a high risk industry you also might want to consider other business protection products such as Income Protection, Key Person Insurance [1], Shareholders Protection and Private Medical Insurance.
Be honest in your application
When submitting a life insurance application it's vitally important to be honest. You will likely be asked questions about your occupation or business which will seem like red flags. However, it's important to answer honestly. The worst that could happen is that the insurer won't provide you with cover. Or they will give you a quote for a premium that you don't consider reasonable.
With so many insurers to choose from you'll almost certainly have other modes of recourse. Remember that you're in the driving seat!
Take the time to get to know the market
Finally, with such fierce competition between insurers, it behoves you to take the time to learn about different insurers and the products they offer. Find out what their customers are saying both on their own website and on third party sites like TrustPilot.
Keep in mind that many insurers actually have products specially designed for those in high-risk occupations. Seek them out!