Advertorial
Helping employees save for their retirement probably comes with some challenges. Whilst you can see the value in it for your employees, it has cost you time and money to get it done. You set profits aside for the workplace pension. You commit your resources to processing contributions. Distributing communication materials. Ensuring you are complying with the legislative landscape. And now re-enrolment looms.
For the employees, having workplace benefits such as pensions will demonstrate that they are valued within your company and will most likely boost motivation and increase productivity.
For many employers, you understand that offering pensions will be attractive to employees but such benefits are also seen as a burden and a risk. Compliance means an additional cost to your business and, as you would have heard from The Pensions Regulator, non-compliance could mean significant fines. So how can you get a return on your investment?
With all this commitment, shouldn't you be seeing the value in it too?
Keeping abreast of all these duties and fulfilling them efficiently is not easy. Most small employers don't have the luxury of a dedicated HR manager to remember all the important dates, field the questions from employees, post all the letters or send all the emails, sort out the payroll and work all the spreadsheets - so it falls on your shoulders to take time away from running your business.
So the question remains, how do you make sure you get value out of what you are offering your employees?
The answer in most cases is communication. If employees understand the value of their pension, they will be more engaged with you and as many studies have shown an engaged employee is a more productive employee.
Problem solved right?  Not really, everyone knows communication is important but employees today can be more demanding. They want to have the information they need at hand, when they want it. As an employer you need to invest time and money in employee communications. This may get a return but not many of us can make a case for investment on what something might achieve.
Often the answer to this may be in providing an online platform for employees but this can give you even more additional work and may well have a substantial cost associated with it.
In an ideal world, you'd have somewhere you could do all this easily, electronically, all in one place.
So what solutions are there available?
At Elect, we have developed a solution we think meets the needs of SME's called Elect Engage that provides your employees access to information on their benefits 24/7, leading to a better understanding and appreciation of the benefits available to them.
Use of the Elect Engage platform is free all you have to do is sign up and start using it. Elect Engage will simplify the way in which you can manage your pension and other employee benefits and give you the ability to share information with your employees.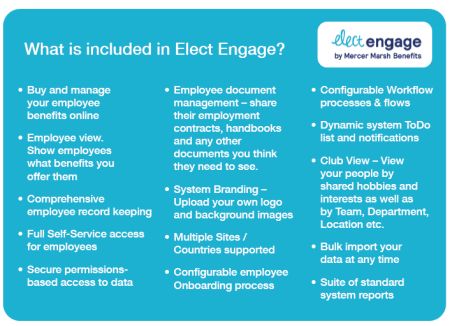 If you are interested in finding out more please contact us on 0800 023 2783 or electsupport@mercermarshbenefits.com