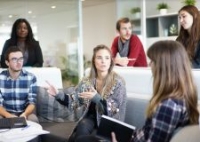 Promotional
Everyone has their own way of sharing their content, but when you're working with other companies or sharing with a client, this can sometimes become a little tricky. With each participant looking to share in their own way, having a simple way to combat this can be a huge stress-reliever, so let's take a look at some of the biggest issues faced in meeting rooms and how you can tackle them before you reach an impasse.
Multiple Operating Systems
A big issue faced in the setting of a meeting is the conflict between users who utilise multiple operating systems, as each different OS works differently - this can often cause problems when using applications that are native to that platform. To avoid this, try to utilise platforms that function well across various operating systems, such as Office, Teams, and other multi-channel and cloud-based services.
Avoid confusion by asking all of the meeting's participants to prepare their content using a platform that's easy to use on any device - this can help to make your meetings as simple and streamlined as possible without any unnecessary hiccups.
Presenting Content
Similarly, it can also be difficult to present the content in a manner that is simple and easy to follow, but recently there has been an emergence of systems and devices that allow this to happen in an instant. The Barco Clickshare [1] platform allows you to share your content during a meeting in perhaps the most simplest way possible. Each user will connect their computer or laptop to a Clickshare device, which will bring up the content on a communal screen when pressed - this means it's easy for everyone to get their information presented clearly without the hassle of tangled wires and tiny screens. This also helps you to keep your meeting rooms clean, slick, and professional.
The receiver hub connects to your screen and manages connections via the WiFi connected buttons that are plugged into the individual laptops, which when pressed bring up the screen of the corresponding device. This system can incorporate up to 8 devices at one time, allowing multiple users to collaborate and share their content simultaneously. If using a touch/interactive screen, you'll be able to collaboratively whiteboard and annotate the content to generate more ideas, ensure everything looks good, and create a better all-round experience for everyone that's involved.
Security
Security is another huge point to take into consideration, as these meetings are likely to contain information relating to some sensitive data that needs to be protected. Barco Clickshare is designed with this in mind; so you can be sure that both the hardware and software can keep your company data safe and secure. You can choose from a few different levels of encryption to give yourself the right level of protection for every scenario, so you can find the necessary security for each meeting.
Barco Clickshare Features
The Barco Clickshare platform is so much more than a way to share content - it's a complete collaborative tool that brings the most out of your team in any presentation scenario. Here are the top features that clickshare offers:
●      Touchback: This allows you to have complete control over any application that's open on your laptop using the touch screen capabilities.
●      Annotation: Whilst sharing your content on the communal screen, you'll be able to annotate on that screen, helping you to identify the successes and weaknesses of the content so that it can be improved using ideas from the entire room
●      Moderation: One of the major features of Barco Clickshare is that you can moderate the content that's on-screen at all times. This will mean that you're only ever looking at things that are relevant to that point in the meeting, without the distractions of other presentations or other information being displayed at a time when it isn't of use.
There can be lots of obstacles to overcome when trying to plan and execute a meeting to get the results that everyone is looking for, but with the help of collaborative technologies such as Barco Clickshare, you can ensure that your meetings run as smoothly as possible. Check out the different packages available for this system - there are solutions to suit every room from a small huddle space to a full-scale board or conference room, making the system entirely adaptable to your meeting room needs.