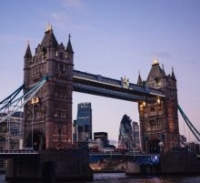 Promotional
You took a brilliant step by seriously thinking about moving to the UK, which means you can soon join the land of Adele, Will and Kate, David Beckham, and eat fish and chips, drink hot tea, and watch the BBC.
If you are moving to the UK on your own, that's no problem. We will tell you what you can expect from living costs and relocation tips. Are you moving to the UK with your family? Well, this article is for you, too. 
Cost of shipping to the UK
There are many things to consider when looking for international removals from the US to the UK [1].
Prices for international travel vary depending on the type of transport you choose. It is essential to select the type of transportation that is best suited to your needs. 
While the price is essential, it is also necessary to ensure that you choose a reputable international shipping company [2] that will not only be cost-effective but also gives you quality service. This allows the process to be less stressful. 
Cost of flying
Although air travel can be up to 18 times more expensive than sea travel, according to Transporteca, sometimes it is a price to pay. When it comes to speed and if you're ready to take the financial blow, this is how much it will cost to transport your stuff to the UK by air.

Cost of Living in the UK
Before enjoying your new home in the UK, let's see how much it costs you to live there. 
Following Mercer's 2019 Cost of Living Survey [3], which determines the 209 most expensive cities in the world, five cities in the UK - London, Birmingham, Aberdeen, Glasgow, and Belfast - are among the top 60.
London is ranked 23rd but still lags behind New York, San Francisco, and Los Angeles - so the situation could be worse. 
VAT
VAT (value-added tax) is also a cost-of-living factor when you live in the UK, 20% tax is included so you won't get an unpleasant surprise when you leave.
There's no VAT in the US, but you'll be familiar with the concept of sales tax, which ranges from 2.9% to 10.5%, depending on the state you're in - unless you live in Oregon, Delaware, Montana, New Hampshire, or Alaska, where there's no sales tax.
Cost of bills in the UK
Seeing the Tower of London, staring at the Angel of the North and generally starting to live in Britain, you don't want to be blinded by large bills.
The good point is that you probably won't have to deal with accounts in excess of your usual extortionate expenses. As you can see below, your monthly costs will drop, if anything, when you move closer to the Queen.

The climate in the UK
The UK has an average of 23.7 days of snow, although most of it is on the tops of large mounds and mountains.
However, this figure can change dramatically, e.g. if you have your eye on Scotland, get ready for 38.1 days of stunning snowflakes a year - which increases to 76.2 days if you live in the Cairngorms.
On the other hand, those who move to Cornwall will only see snow for 7.4 days a year.
If you encounter some snow in the UK (and especially London), expect travel delays in the major cities. Just a few inches of the white stuff will cause traffic delays and slower public transport, so working from home is usually a good idea when the snow starts to fall.
Housing cost in the UK
If you are happy with everything you have seen so far, and if you are fascinated enough by the quirks and weaknesses of the Old World to start a new life in England, you will want to know how much you can expect to pay for your accommodation.
Average UK house prices: $280,835
Average UK apartment prices: $244,747
The cheapest place to buy a house in the UK: Newcastle (average price of £62,519)
The Best Neighborhoods in the UK
Best for families: Bath
This scenic English city is the best place to raise your children, according to data collected by MoneySuperMarket [4].
It has 30 schools rated "Outstanding" by Ofsted school inspectors, many parks, and stunning Roman architecture to enjoy, and a decent average earning of $36,343.
Best for students: Dalston
If you're moving to the UK as a student, you're almost certainly going to land in London.
Dalston, located in the east of the city, has become a hipster center in the last decade. This, of course, meant that gentrification was inevitable. However, despite the crawling onslaught of big brands, the cosmopolitan area is still at the forefront when it comes to food, art, and calmness.
It is also one of the cheapest places to rent in London, with fantastic nightlife, and offers above-ground transport links that can get you to the city center in no time.
Best for Hippies: Brighton and Hove
This southern city is undoubtedly the hipster champion of Britain, and perhaps in the world. Located on the English coast, these cities are full of passion for art, food, coffee, vintage clothing, and music.
It's an incredibly friendly atmosphere complemented by the way its residents care about the environment. The city is home to Britain's only member of parliament for the Green Party, which has held its place since 2010.
Working in the UK
The chances are you'll have a great time working in the UK. In 2019 the country was ranked 10th in the world in terms of people being happy at work. The employment rate was 76.1% - the highest since records began.
All this shows that this is an economy with happy workers - but let's get to the point and see what you can expect from a salary. 

Work visas 
Moving to the UK from a member state of the European Union is much more comfortable. However, that doesn't mean it's not possible if you come from the States. 
If you are a qualified worker who has been employed by one of the countless acknowledged companies in the UK, you can make a request for a General visa three months before your start date.
Do you need to stay for up to three years? Applying will cost you £610, plus a further £610 for each of your dependents (family members). 
Do you want to make the UK your home for more than three years? It will cost you around £1,220 ($1,488), as well as another £1,220 ($1,488) for each of your dependants. For a family of five, this means spending £6,100 ($7,440) for the right to live in the UK.
In any case, applying for a visa from within the UK will cost you 15% more.
You will also have to pay an immigration medical purchase of around £800 ($976) for you and each of your dependants.
You will need the following documents:
Certificate of sponsorship from your employer
Proof that you are paid at the "appropriate rate" - usually at least £30,000 ($36,600) per year.
Your travel history over the past five years.
A bank statement showing that you had £945 in your account 90 days before you applied.
Evidence that you can and are allowed to travel.
Once you have collected and prepared all this information, be prepared to visit the visa application center to take fingerprints and photographs for your biometric residence permit.
100% of New York City visa applicants receive a response within 30 days. However, this usually does not take that long. Half of them get a response within two days, and 99% get a response within 15 days, according to the UK government.
Jobs in the UK for students
The UK is an excellent place to attend university. Cambridge and Oxford not only occupy the first two places in the world ranking of Time Higher Education's World University Rankings 2019 [5] but only in London, four educational institutions are in the top 40.
To fulfill your dream of studying in the UK, you should apply for a General Student Visa. This can be done three months before the course starts, and a visa decision must be made within three weeks of sending your application.
Gather the following documents:
Valid passport or another valid travel document
Evidence that you can provide for yourself and pay for your course.
Evidence of your legal guardian's consent to a visa if you are under the age of 18.
Proof of your relationship with your legal guardian if you are under the age of 18.
Applying for this visa from outside the UK costs around £348. You must pay £348 extra for each dependent you wish to take with you. You will also have to pay for an immigration medical certificate of around £1,000 ($1,220).
Expat Healthcare
The UK's universal healthcare system consistently ranks high on the world stage, with taxpayers paying only a fraction of what people in many other countries pay.
Once you have paid for the immigration health insurance included in your visa application, you can use the National Health Service (NHS).
All services offered to all other people in the UK will also be available to you free of charge, except for some services, including prescriptions, dental treatment, and fertility treatments.
Do you need private insurance?
Waiting times can vary and sometimes last for several months. However, the NHS has an excellent reputation from therapists to the surgeries it performs - plus, it is free.
Can you use state healthcare services?
You can, although you do not have to. The 2017 report showed that 10.6% of the British population has private insurance, which means that the rest of the community trusts the NHS care.
Schools in the UK
The UK education system can offer you and your children high-quality public and private schools - although the terms "public school" and "private school" refer to private institutions in the UK.
Each child must attend school between the ages of 5 and 16. If you are planning to move back to the States after some time, then an international school maybe your best option.
To Sum Up
Moving to the UK is a great option, and by that point, you should have all the knowledge you need in order to make the leap to live over the pond.
You can look forward to excellent health care, education, and entertainment during your stay in the UK. The variety of food available is excellent and in this multicultural country, all types of local and foreign cuisine are available, from French, Indian, Italian, Chinese or Japanese, wherever you choose to live.
Make sure that you plan your move well in order to eliminate any stress along the way.