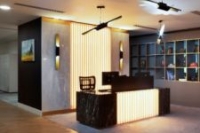 Halkin [1] is the family company that provides serviced and virtual offices, co-working spaces, meeting rooms and conference facilities across London, incorporating the highest levels of Covid 19 protection in it's business centres
As a highly experienced and well respected figure in the property and flexible workspace industry, what made you re-enter the flexible office market, having already created and sold a substantial serviced office group to Regus?
Ten years ago there were really only a handful of major business centre providers in London, with a narrow product range. I saw an opportunity for Halkin to be at the forefront of a new generation of smart buildings and a reinvention of the typical office space.
Businesses are increasingly realising that to attract and retain the brightest and best talent they need to provide environments which support and inspire their employees. People want to be based in buildings that they feel really good about going to work in.
What is in the overall style and strategy of Halkin that your clients are attracted to?
We are all about offering a unique collection of centrally located addresses, each with its own style, shared community and culture, rather than a cut-and-paste portfolio of identical buildings.
Our London Mayfair addresses are popular with fiduciary, recruitment and wealth management services, as well as small consultancies and sole traders. Big corporates and established SMEs in fintech, construction, IT and medical research are among our tenants in the Northern & Shell Building in The City and in the Mermaid complex by Blackfriars station, and we tend to see more creative companies and start-ups in our business centres in Southwark and Watford.
Our focus is on the look, feel and quality of each of our centres, which is why we have invested a lot in the interiors and in providing the latest technology. Our ability to take care of everything in house, from the management of IT, to office build and design services, means we can offer a personalised and supportive environment for companies of all sizes to grow their business.
Scalability and flexibility are hugely important. We cover everything from a virtual desk to 100+ workstations, and average contracts range from six months to two years.
In this Covid world, what measures has Halkin put in place to protect and give your resident companies and staff confidence when returning to work?
We have adapted every Halkin business centre to create a safer working environment in this new climate.
Infra-red fever-screening equipment has been installed at building entrances and our phone app allows contactless sign-in at reception. We've also invested in fogging equipment to mist-spray desk and communal areas with a solution that produces a sterilised environment for up to 30 days - a practice that's been used widely in South Korea, by the NHS and Transport for London.
Each company has been provided with a directional circulation plan to help staff follow one-way systems and social distancing and we're providing hand sanitiser packs, desk divider screens and larger meeting room space for all bookings.
We've even produced a video guide to social distancing in the office for our 'Helping London Back To Work [2]' inititative.
To help support changing working patterns and office use, we are also offering more flexible business centre memberships and office tenancy contracts, with shorter notice periods and on-demand membership, as well as extra access passes for companies who want to support flexible, distributed team working in multiple locations.
Are they returning?
Certainly, we have seen a great surge in confidence amongst our clients over the last two weeks. We have been in regular contact with all of our clients and supported them in every way possible.  We are confident that come September we will start to see the shape of the 'new normal'.
People still want to come into work, even if they have the option of working from home. People need to connect on a human level.
And your own staff, how are they coping through this very difficult time?
We have all faced our own personal challenges through this unique time. We are a small family business and regardless of a global pandemic the health and wellbeing of our team has always been a top priority. We recruited a wellness specialist to assist staff at home and she has become integral to our operations, an essential member of the company. We are very proud that as restrictions have slowly lifted, our teams have been socialising and engaging with each other and we have regular quizzes and social calls to ensure we are all in touch.
Do you feel that office use in cities may change in the long term as a result of the pandemic?
We are anticipating the splitting up of teams on a rota basis for some time to come, with employees perhaps working three days a week in their London office and the other two at home. That said, there will always be a real human desire for inspiration, community and collaboration that can only be done face to face.
Serviced offices are nothing if not flexible but do you think they will become the natural choice, when so many companies are parking their staff at home?
Absolutely. If anything, this pandemic has made people very conscious of their health, both physical and mental, and has put a highly positive emphasis on work/life balance.
We have seen remarkable productivity in our teams when working from home but we do still see many aspects of office life as essential to a healthy and happy working life. There is a genuine appetite in our own team and amongst clients to come back to the office and get stuck in.
What will get Halkin through this pandemic?
As before, we shall succeed by putting our clients and our workforce first, never failing to go the extra mile. We have had extremely positive feedback from clients regarding the protective measures we have put in place to ensure they can return to work without fear and with peace of mind. We truly look forward to welcoming them all back with confidence.