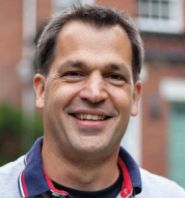 An entrepreneur with a drive to put alternative proteins, such as plants and insects, into the nation's diets, launches a new range of Protein Rebel protein powders. With a focus on all-natural ingredients that are great for the body, gentle on the gut and kind to the planet, Protein Rebel [1] founder, Tim Boote, is looking to normalise the eating of new types of protein.
Tim Boote, says, "Alternative proteins, such as insects and plants, are highly nutritious as well as having a low impact on the planet. And now we've mastered making them taste great while retaining all their nutritional and environmental properties, we're confident more people will include sustainable proteins in their everyday diets."
Research proves that plants and crickets are high in protein and very nutritious. Crickets are an all-round superfood, nutritionally right up there with kale, goji berries and turmeric. They're rich in protein and essential amino acids, high in iron and vitamin B12 and are packed full of prebiotic fibre making them good for the gut. Insects have also been found to be great sources of zinc, copper, magnesium and manganese.
Launched on August 20th, there are three types of powders - Reload - a cricket and plant-based high protein powder that's great for building and repairing muscle mass; Recover - a high protein and high carbohydrate vegan sports nutrition powder for post-workout recovery; and Replace - a vegan meal and snack replacement protein powder for slimming down and toning up. All are available in dark chocolate and banana flavours.
Boote says, "We can't continue to eat meat and its by-products in the same quantities. After all, the world population will surpass 9.1 billion by 2050, at which point agricultural systems won't be able to supply enough food to feed everyone."
"Crickets and plants are part of the solution as they are high in protein and other nutrients and have a very low planetary impact when compared to meat. It's time for people to try new types of alternative proteins. They're the foods of the future."
Protein Rebel powders [2] are available to purchase and by using discount code 25%OffLaunchRebel, customers can enjoy 25% off their first purchase.