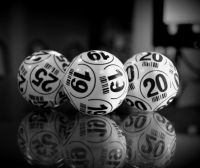 Sponsored post
But now, there's also Lotto Five [1]. And what is that you ask? That is what this article will help you understand just as soon as we run you through what Lottoland is and why it is worth your attention.
If you don't know about it yet, Lottoland is a lottery website that was introduced to the world in 2013 by David Rosen. When it started out in Gibraltar, it only had seven employees at the time. But then, as time went on, it expanded exponentially over the course of 7 years to the point where it now has celebrity endorsements. It is a recipient of EGR awards for the Rising Star and Alternative operator.
The website also funds the German-based independent Lottoland Foundation that was established in 2016. This foundation specializes in promoting sport for the able-bodied and the disabled. But that's another story for another day.
Now let's look into exactly what Lotto Five is all about.
What is Lotto Five?
Lotto X5 is a brand new online lotto betting game recently launched by Lottoland. This is a game that gives players over five chances to win £1m from only a £1 stake.
With this, players will be able to choose six numbers between 1 and 59 for a chance to gain entry into a multi-prize draw. What's even more incredible about this is that the draws take place three times every week on Wednesdays, Fridays, and Saturdays.
According to research conducted by Lottoland, they chose to launch this new betting game based on the overwhelming response from players behind the reason for playing Lottoland, which is to 'be a millionaire before next year.'
When creating Lotto x5, Nigel Birrell, CEO of Lottoland, said that he understands the incredible Lottery fandom they have in the UK. They realized that to be able to stand out, they have to do something to ensure that they lived up to those expectations. He goes on to say leaving the game takes everyone back to when £1 per play was the norm - which is something that many miss - but rather than doing rollovers, they're offering many more chances for two players to be a millionaire from the very same draw.
This is what inspired Lottoland to introduce Lotto x5 - to make their games as exciting and compelling as possible. That's why they've been continuously asking UK lottery players as to what they want with their lottery games so that they would only be about the best UK games [2] for their consumers.
Lottoland has been built on the promise of providing more for their consumers. This could be in terms of having more choice, more chances, more value, more playfulness, or even more jackpots. Lastly, Birrell stated that they're looking to make more UK millionaires with Lotto x5.
How do You Play Lotto x5?
To play the game, all you have to do is choose six numbers between one and 59 or choose the QuickPick option (Quick+1). After doing that, just click the "submit" option to move on to the checkout option.
If you like an extra QuickPick, just click the "Quick+1" option. If you want to choose a quick pick for each bet slip line, click on the "Rest" option. If you want to delete and then restart the bet, you need only to click on the icon that's located on the top right side of the bed slip whenever you like.
A player's bet can be submitted for any draw that takes place on Wednesdays, Fridays, Saturdays, or maybe even a combination of all those days. The bet can last between 1 to 52 weeks, or if you like, you can also opt for a subscription that comes with a billing of 1 to 52 weeks. If not that, then you can even choose the first draw to bet on.
Subscription Bet
Subscriptions offer an incredible facility to players from having to buy repeat line bets and also protect them from missing a huge jackpot win. This feature enables players to set up an automatic bet for a particular lottery draw but players can cancel the subscription later if they  choose to renew as it's open-ended.
If you do decide to cancel your subscription, just go to the 'My Activity bold' area of your account end right beside the relevant bed, you'll see an option that lets you cancel a bet's subscription renewal. After doing this, the subscription will no longer renew after the ongoing billing period.
How does the system bet work?
In Lotto x5, a system bet enables players to choose more than the basic 6 necessary numbers after choosing a bet. And since the Lotto x5 1 line bet requires six main numbers, any combination of those six numbers that have been chosen will be counted as bets.
For instance, if you pick a system bet using 7 main numbers, the bet will consist of over seven combinations of six different numbers. This results in 7 line bets overall.
To make a system bet, click on any extra numbers that you'd like to bet on, which will automatically activate it. The players will also be able to view the number of line best that is being prepped for submission by clicking on the info button right by their stake. A maximum of 13 numbers can be selected for a system bet.
How Will Players Be Notified If They've Won A Lottery?
The winners will be notified via their email.
What to do when a technical fault occurs?
Should a technical fault occur, such as disconnections or system downs, then every draw that was taking place at the time would be determined right when the system has restarted. This is better than simply canceling a draw. And should a lottery take place online, players will be informed by SMS, and the bet won't be submitted.
Conclusion
Now that you understand what's in store for you with Lotto Five, why not give this online Lottery platform a shot yourself.