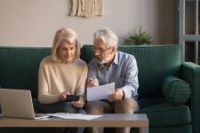 This is an exciting time, but it can be confusing, scary, and overwhelming at the same time. Many people worry that they haven't saved enough or they didn't start planning young enough. For most, with the help from some professionals, they are able to retire with peace of mind.
If you are lucky enough to retire with a pension, it takes some stress out of your decision. However, there are many other factors to think about when you decide that it's time to retire.
Getting your finances in shape
The biggest fear people have about retiring is that they will outlive their money. Even if you have a pension and will receive social security, these two sources of income just aren't enough to cover your expenses, especially if you plan to live as you did when you were working.
As you plan for retirement, sit down with a professional advisor [1] to get your finances in order. They can help you figure out which investments are right for you, how to make the most return on your savings, and even help you cut down on any current debt you may have.
Once you have your finances squared away and a spending plan, you'll feel more confident in your decision to retire.
Ensure you're covered by reliable insurance
Unfortunately, as you get older, your visits to the doctor start to increase. It's just what happens with old age. Since many people receive their health insurance through their employer, once you retire, you have to find another source of insurance.
While it's available through the government, you may have to consider additional insurance depending on your needs. You don't want to find out one day that a bunion surgery isn't covered and have to ask the question, "Do bunion splints work?" [2] and hope for the best!
Consider downsizing
Now that you're retiring and doing your best to stretch your income as far as it can go, you may want to consider downsizing. Many people decide to sell their homes and belongings they don't need anymore and move to another location - preferably somewhere warmer or near family - and buy a smaller home.
a location with a lower cost of living [3] and better tax rates than before can also help your retirement plan greatly.
How you'll spend your time
Retirement means having a lot of free time. Before you say goodbye to your office, think about how you're going to spend all of that free time. What hobbies are you going to pick up? What does your daily routine look like? Will you finally travel to that country you've been dreaming about for years?
Retirement is an exciting and proud time of your life! Show it off and enjoy every second of it.