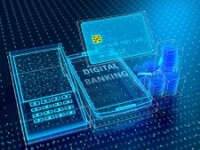 The COVID-19 pandemic will become known as the turning point for when the world abandoned the analogue era.
Traditional banks are especially vulnerable to being left behind, with many customers wanting simplified analytical and data driven technology at their fingertips, so everything can be done quickly and efficiently online. This has been especially prevalent in the pandemic to secure loans promptly, as any delays can leave businesses in perilous cash positions, unable to pay staff or cover bills.
Digital Lending - the 'new normal'
COVID-induced lending difficulties have had far reaching implications on businesses of all sizes.  As reported by the International Monetary Fund (IMF), we are globally experiencing the worst economic downturn since the Great Depression - with an estimated $9 trillion loss to GDP by the end of 2022.
High street banks have been unable to keep up with this type of demand, as they do not have the technological processes in place to ensure loans are approved quickly, which has been highlighted with the UK Government's Coronavirus Business Interruption Loan Scheme (CBILS).
Companies have found it very difficult to access the CBILS through traditional banks, due to eligibility issues, a disjoined approval system and an outdated on-boarding process for new clients, with a mixture of digital and paper application forms not fit for purpose.
Customers have, therefore, turned to neobanks and challenger offerings as a quick and easy digital lending alternative. By offering a superior consumer experience, with online channels and the tools to help efficiently help businesses in distress, they have now become the most attractive and 'new normal' option.
The death of traditional banking
Traditional banks for some time have been haunted by fintech firms, who have been eroding their market share. There was the perception that by having physical buildings, customer loyalty and Government protection, it would ensure traditional financial institutions would remain safe from competition. However, these advantages have been severely diminished.
Take for example regulation technology - compliance, risk management, as well as, transaction monitoring is now more straight forward for new Challenger banks wanting to enter the market. The clock is now ticking, before any form of regulation barrier protecting traditional banks is disbanded across all financial markets.
Another issue is that traditional banks have been slow off the mark and arguably narrow minded, when comparing disruptive business models to their own. As such, when treating new financial players to the market they still see them as a traditional competitor.
Therefore, as this complex ecosystem has evolved - instead of trying to find a position of power within the digital space, they have instead looked to remain financially competitive elsewhere, by reducing employee numbers and shutting down store branches.
If traditional banks want to survive they need to understand that customer expectations have drastically changed, and they need efficient technological lending solutions that can quickly mitigate against shocks to the financial markets and ensure the best chances of keep their businesses afloat.
With a recent Capgemini report stating that just 21% of traditional banks believe their systems are agile enough to collaborate with fintechs - it is critical that they must now shift from product-focused to rather an online platform-based adoption.
The future of lending
With the pandemic continuing to paralyse economies across the globe, lending has never been so important to enable companies to remain resilient and get the financial support they need, to counteract any drops in trade.
It's important that traditional banks do not see all fintechs as their competitors but instead their collaborators, with the ability to accelerate digital lending. By using a cloud-native digital lending platform, banks can adapt to the new normal of working from a home-based back-office, without compromising on customer experience. A lending platform enables banks to take an omnichannel approach monitoring all their operations in one place.
At the same time, with the rise of employees using their personal devices as the 'new normal,' it's essential that banks deploy the right technology including a secure web channel and strong user identification in the place of special company devices and physical protection.
With cloud-native lending platforms, data can be processed and analysed at greater speed and evaluated more thoroughly through machine learning capabilities, instead of having to manually document the process when each new request comes in. This will accelerate the process of informing the customer if their loan application is likely to be successful, pending legal documentation and passing all the necessary checks.
Alas, the traditional banks that can get customers back on side, need to do more than just speed up lending access - especially for SMEs - they instead must introduce cloud based applications, that can offer a single click assessment, eliminating unnecessary hoop jumping and instead provide a service that is seamless and stress-free from beginning to end.
Conclusion
The COVID-19 crisis has erupted across the world at an alarming pace, causing levels of disruption to the global economy not seen in a generation. Access to finance will be make or break for so many companies, with smart technology providing the avenue to make this happen.
Traditional banks now more than ever have to make that leap to cloud-based platforms or they will become unseated permanently by their neobank competitors. As it is these companies currently that are leading the way and providing a lifeline to obtain loans quickly, allowing the businesses, which make-up the backbones of the global economy to continue to operate beyond COVID-19.
For more information visit  ApPello [1]