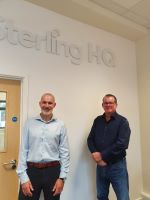 Founded in 2014 by husband and wife duo, Neil and Tracey Davis, Sterling Networks boasts 24 networking groups across the South West, Midlands, Oxfordshire and Wiltshire regions, and since March has successfully expanded its membership by over 61%.
In understanding the valuable role its networking groups play in helping professionals build genuine, profitable business relationships, Managing Director, Neil Davis, has joined forces with proven business and leadership coach, Alan Clark, to extend the level of support for business owners across all Sterling regions, with the launch of Sterling Advance.
Designed to bring like-minded professionals together in a mastermind group of 12, Sterling Advance enables business leaders to expand their network through strategic peer-to-peer support, whilst benefitting from the insight and expertise of proven business coaches.
Having established a number of individual mastermind groups already, Sterling Advance boasts a strong trajectory for growth and unlike competing mastermind providers, combines the key features of the individual Sterling Network groups with both business mastermind and masterclass sessions, enabling members to focus on developing their skillset and driving busines growth.
Neil Davis, Founder and Director of Sterling Advance, confirmed: "The last 6 months have been incredibly challenging for millions of business owners across the UK. As a result, we have found that Sterling Networks has acted as a lifeline for many, not only in providing the opportunity to network and engage with other business owners in a remote working environment, but also in helping businesses to recover the revenue lost during lockdown."
"We wanted to take this value one step further in launching mastermind membership organisation, Sterling Advance, which offers a confidential environment for business leaders to meet with like-minded professionals and specifically focus on enhancing their skillset and driving business growth. With a number of mastermind groups already in place, we adhere to mantra 'play together, win together' to create strong synergy and ensure all members benefit from combined experience."
With all groups currently conducted virtually, both Neil and Alan already have firm plans in place to expand the Sterling Advance offering into other key regions across the UK, with aspirations to have launched five individual groups by the close of 2020.
Alan Clark, renowned business coach and Director of Sterling Advance, added:  "2020 will certainly go down in history as one of the most challenging and unprecedented years for business owners, however those who have continued to innovate, disrupt and navigate through the situation are those who will come out on top as markets recover. Sterling Advance has been created to help business leaders do just that, by establishing a group of driven business leaders who have a clear want and aspiration for growth, regardless of their size or industry sector.
The power of a focused mastermind group, combined with the support of our strategic masterclasses has already helped many of our members overcome significant challenges and I am, therefore, very excited about what the next 6 months will bring as we continue to welcome members on board and grow the Sterling Advance brand."
Headquartered in Worcester, Sterling Advance currently boasts over 30 individual members who virtually meet in groups of 12 on a monthly basis.
To find out more, visit Sterling Advance [1]