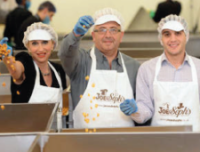 What was your Eureka Moment?
Back in 2010, when after months of burnt pans and late-night tasting sessions in our kitchen, my family and I took our first four gourmet popcorn flavours to a food show and sold out in just two days. It was then that I first thought we had been lucky enough to create something really special.
How did you finance your company?
The first couple of years was partly through my own financing. Later on, I took on investors to finance the growth.
What regrets do you have?
I'm a firm believer in the idea that everything happens for a reason, so
I try not to regret any of the mistakes we've made along the way. I'm so proud of our small agile team and our ability to pivot quickly as a business when things unexpectedly change e.g. a global pandemic!
What would you have changed?
One regret over the years would be not focusing more on our joeandsephs.co.uk direct to consumer business, which we launched when we first started Joe & Seph's in 2010. Since lockdown, we've invested heavily in the website and, as a result, over 100,000 new consumers have ordered our handmade popcorn from joeandsephs.co.uk for the very first time! With hindsight we should have focused on optimising the user experience and product range on our website years ago.
www.joeandsephs.co.uk [1]