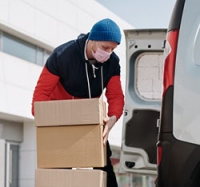 Van drivers of all ages are prone to poor mental health due to unpredictable journey times, traffic congestion, tight deadlines, a high workload, and lack of social interaction. Indeed, the suicide rate for van drivers is 25% higher than the national average. These problems have been exacerbated during COVID-19, as increased demand has increased pressure on van drivers in lockdown.
According to the Driving for Better Business survey, 'Better Business Resilience' - which surveyed 150 SME business owners and 150 decision-makers at board level in large enterprises on the impact of COVID-19 on their business - almost a third of UK businesses are concerned about staff mental health (32%).
Nearly 2 in 5 (39%) SMEs reported that they were concerned about the mental health of their employees, compared to only a quarter (25%) of large firms. These concerns are firmly on the corporate agenda. Among both SMEs and large enterprises, 'the impact of COVID-19 on the mental health of staff' (44%) was being communicated at board level.
Despite a broad level of awareness among employers of mental health challenges, only 27% of all businesses have measures to monitor the mental health of operational staff and just over a quarter (26%) have measures to monitor the mental health of furloughed workers.
Meanwhile, only a quarter (25%) of businesses are providing employees with mental health resources during COVID-19. 
To help employers support workers in their mental health challenges, Driving for Better Business, a government-backed Highways England campaign, has partnered with CALM (Campaign Against Living Miserably) to create 20,000 driver information packs, containing a flyer and stickers to go inside commercial vehicles, to increase awareness among drivers of CALM's free and confidential helpline and webchat - for anyone who needs to talk about the issues they are facing. 
The CALM Driver campaign is supported by both large and small fleets and courier companies, including the Murphy Group, Bott, and JM Hall Couriers - one of Amazon's largest delivery service providers. CALM Driver also has the backing of the Road Haulage Association - the UK's only trade organisation dedicated to road freight transport - which is promoting the initiative to its members. The CALM Driver campaign and resources are available here: https://www.drivingforbetterbusiness.com/calmdriver [1]  
Commenting on the campaign, Simon Turner, Campaign Manager, Driving for Better Business said: "On Blue Monday, we're raising awareness about the mental health challenges van drivers are facing on a daily basis. Our research shows that although there is a good level of awareness at board level on mental health challenges, there is work to be done in communicating and signposting resources to support employees within the workplace.   
"Our CALM Driver resources help employers to take a proactive approach in engaging with drivers and supporting them on mental health issues. Championing driver mental health, especially during the COVID-19 pandemic, isn't just morally the right thing to do, it also makes good business sense, helping to keep operations running smoothly, and drivers safe and healthy.
Dr Paul Jackson, Chartered Psychologist and Fatigue Risk Management specialist, said: "During the COVID-19 crisis, van drivers have experienced a considerable growth in demand for their services. This demand has exacerbated two key issues, fatigue and stress, that combine to cause poor mental health and impact on wellbeing.
"Additional demand is likely to have a significant impact on workload. For van drivers, the risks associated with fatigue and stress are particularly problematic, as they are at risk of working long hours, in isolation and with little oversight from their employers.
"To overcome these challenges, there is a shared responsibility for employers and employees to manage risks and protect the mental wellbeing of those who drive for work. Employers must look at their standard operational practices and ensure workers are given the opportunity to obtain sleep and rest in order to drive safely. In turn, employees must use this opportunity to rest sufficiently and ensure they are fit to drive, following the guidelines provided within the resources."