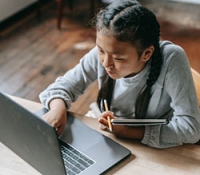 SoPro [1] is asking Sussex-based businesses to donate laptops and other computer equipment that can be given to local schoolchildren struggling to access online learning resources.  
Level Up Laptops will also take monetary donations through its Sussex based registered charity partner the Tarner Community Project [2].  All funds raised will be used to cover refurbishment costs or to purchase new machines for local children. 
Ryan Welmans [3], SoPro's CEO and the mastermind behind this initiative explains why the project started: "When I heard on the radio how a lack of devices is making it impossible for some of our most vulnerable families to home school, I knew we could help.  So many businesses have old laptops lying around and we can reach the with our Sopro prospecting technology quickly to raise awareness and gain their support. We're also donating staff time to handle the collection, refurbishment and fundraising plus our fantastic charity partner the Tarner Community Project already has links into local schools and the council. 
To get the campaign of to a flying start, SoPro are funding ten laptops for ten local kids immediately."  
Emma Jacquest, CEO at the Tarner Community Project explains how these devices will help Sussex school children; "Covid has accelerated the amount of education conducted online and it's critical that vulnerable children don't fall behind because of a lack of access to learning resources. We're excited to be involved in this project to tackle the digital divide across Sussex and have every confidence in the generosity of local businesses." 
Level Up Laptops will accept any laptop that runs Windows 7 or later plus tablets, which many younger children need for their studies, refurbishing them and then connecting with local schools, who will distribute the devices to children struggling to maintain their education remotely. 
Matthew Ansell from Hove based marketing agency Matrix Marketing  [4]added; "We've made a cash donation to help cover refurbishment costs as it's critical to get usable devices out to children who are missing out on education. I wouldn't be able to work if my children couldn't get online and access sites like BBC Bitesize because I'd need to teach or supervise them constantly. Without access to the internet, they would also miss out on video calls with their teachers and friends, which are so important to their mental wellbeing during this pandemic." 
Many households are struggling even if they have one device already as parents are working from home and often there is more than one child who needs to join online lessons or use a laptop to access educational resources online.  
It is estimated that 2.6 million schoolchildren live below the poverty line in England alone, and Ofcom estimates that about 9% of children in the UK - up to 1.7 million - do not have access to a laptop, desktop or tablet at home.  
More than 880,000 children also live in a household with only a mobile internet connection. 
Online Nation 2020
[5] - 
https://www.ofcom.org.uk/__data/assets/pdf_file/0037/194878/technology-tracker-2020-uk-data-tables.pdf
[6]