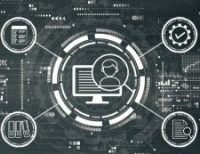 Staying resilient in a crisis
COVID-19 has highlighted the importance of resilience for new and growing businesses. SMEs, the backbone of the global economy, were among the hardest hit during the height of the pandemic. Despite the circumstances, many have continued to grow and expand by turning to digital solutions to overcome the health challenges and changes in behaviour caused by the pandemic.
From virtual conferencing to AI and machine learning, all forms of technology have helped companies to navigate unprecedented societal change as companies transition to remote working and contactless payments. Continuing to utilise technological innovation in a post-COVID-19 world will be crucial, and that's where dark data can help.
What is dark data?
Dark data is the most recent innovation in the data revolution. But it's actually been around longer than you think.
Dark data is information collected as a by-product of normal business activity. It is data that is often under-utilised by the majority of companies. Indeed, many are unaware of its existence and how it can be harnessed.
Dark data can help businesses better understand their customers and the market conditions to drive business performance and resilience. For instance, dark data could be internal data such as email correspondences, or external data including customer profiles and purchasing activity. By accessing this information, businesses can contextualise existing insights to inform business strategies and intelligent decision making.
Taking advantage of dark data to optimise your business
The untapped potential of dark data can support all businesses - big or small - to drive growth and resilience, especially in the context of COVID-19.
To be able to use dark data effectively, businesses must transform their raw data into structured and intelligent sources of information. Only once this has been done businesses can begin accessing the benefits of dark data, to improve products, services and internal processes. 
By understanding dark data, companies can have a better overview of their operations to identity new growth opportunities and solve their customer's challenges quicker. 
Companies need to start taking advantage of the benefits that dark data brings, as many for the first time will have built up vast amounts of this data over a relatively short period of time. This information can provide intelligent insights about their customer base and the market they operate in to improve performance and open up additional revenue streams.
As we enter a post-COVID-19 world in 2021, dark data creates a unique opportunity to provide businesses with an edge over competitors, enabling them to make informed, data-led decisions to optimise their day-to-day operations. The question now is: Why wouldn't you take advantage of it?