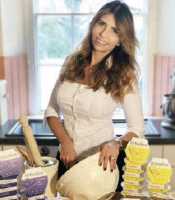 Ella recognised that there was a huge gap in the market for indulgent treats that are high in protein and contain no sugar. Fitbakes [1] is just launching its next product which is a UK first; a sugar free millionaire caramel cake.
Eureka moment?
I am from Brazil, where healthy ingredients substitutes are the norm. For example, growing up I never saw sugar in our house, we had natural sweeteners like stevia instead of it. I'm also a cakeaholic. When I moved to the UK a few years ago, I realised that this was Cake Land! It's literally the only country in the world where there supermarkets have entire aisles dedicated to cake, I was in heaven! But there was no low sugar, and no high protein cake anywhere, so I rolled up my sleeves, and made one!
Financing
We started with less than £300. I made a website myself, had a logo made for £5 on the Fiverr website, bought some transparent plastic pots online, had some stickers printed and we launched. Orders poured in, so a few months later we hired proper designers to make the current logo and packaging etc, that's when we had our first outside investment, from a friend of mine who is an angel investor. After that we had another round with angels one year later, and now we're crowdfunding.
Regrets
Not really... We got a lot of things right and a lot of things wrong, but we learned from all of them.
What would you have changed? 
 I wouldn't have done even one trade show ever. We only did one, but what we learned is that it is the most expensive way of networking and the ROI is quite low. If you just visit the show, network for free and put the same funds on digital ads, your ROI is way better.