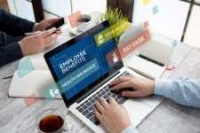 Employee benefits [1] come in so many shapes and sizes that it's almost impossible to create a scheme which pleases every one of your team members. Billy in accounts might be keen on a discounted gym membership, but Sally might prefer cut-price (or even free) cinema tickets.
So, how do you please Billy, Sally and the rest of your workforce without breaking the company budget? The answer lies in a voluntary benefits scheme.
Voluntary benefits are an increasingly popular means of providing employee benefits, with one study showing that 94% of employers predict it will be a key part of their employee rewards strategy [2] over the next three years.
In this article we'll explain how voluntary benefits work and how they help employee and business alike.voluntary benefits scheme [3] provides employees with a list of perks to choose from. Rather than get automatically enrolled into a perk they don't want, it gives them freedom of choice.
Now you might be thinking: this sounds a lot like a flexible benefits scheme? And you'd be right. However, there's one crucial difference. In a voluntary benefits scheme, the workers' pay for the benefits they want via payroll.
Voluntary employee benefits are most commonly provided as part of an employee benefits platform [4]. These are user-friendly applications, accessible via mobile device or computer, that employees can use to manage their perks.
Employee benefits platforms provide staff members with a simple and efficient overview of all the benefits that are available, as well as the means to easily manage their pre-existing perks.
Providers of these platforms usually offer an impressive volume of different benefits and continue to expand their offerings on a regular basis, as new perks become available.chat box to the right [5] or email us at hello@hoorayinsurance.co.uk [6]