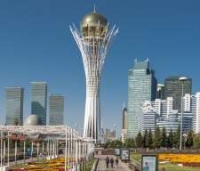 It is the ninth largest country in the world, has a booming economy (the largest in Central Asia) and, as an emerging market it is an interesting country for UK businesses to consider and explore.   
Kazakhstan's location is one contributing factor: Russia lies to the north, China to the east and other bordering countries Turkmenistan, Uzbekistan and Kyrgyzstan in the south. President Shigeo Katsu of Nazarbayev University, Kazakhstan's flagship academic institution which has aspirations to become a global-level research university, shares a very good description of the country as "not land-locked but land-linked". 
As a rapidly developing country Kazakhstan is keen to ensure that it keeps pace with its growing economy, changing population needs and that it encourages both local and international innovation in the country. Kasakhstan's first President, Nursultan Nazarbayev, who was in office until March 2019, was responsible for many of the initiatives to advance the country's innovation ecosystem. Notable among those is the Astana Hub [1], launched by the First President on 6 October 2018, which aims to develop a startup culture in the country, supporting high-tech projects to strengthen Kazakhstan's economy. It includes a hub space as a corporate business incubator. As of October 2021, Astana Hub includes 555 companies, 54 of which are foreign and it works and cooperates with local venture funds as well as with international organisations including Rutec Ventures and Unbound Innovations in the UK.
Another initiative of the First President which is also advancing the country's development is the Astana International Financial Centre (AIFC) [2], launched in 2018, the newest financial centre in the world and the only one in Central Asia. Within this is the AIFC Green Finance Centre created to enable the development of green finance in Kazakhstan and Central Asia. Green finance refers to investments and other financial instruments such as green and social bonds, concessional lending and subsidies for green projects, which are aimed at delivering environmentally friendly, energy efficient and low carbon projects. As a regional think-tank, the AIFC Green Finance Centre also provides strategic and business consulting in green finance and sustainable development. It established the first Green Finance Awards in the region and the Green Finance team from AIFC recently held a COP26 event in Glasgow.
Also to be found within the AIFC family is the Tech Hub which helps brings new tech initiatives to Kazakhstan, soft lands them and then builds up new economy streams for the country, by building the tech development stream and ecosystem to support these companies and "connecting the dots" with the different Ministries. There is currently a strong focus on b2b tech including fintech, such as Kaspi which is already known outside Kazakhstan, and b2gov or govtech companies. 
Location, location, location
Air Astana [3], Kazakhstan's successful national airline is definitely a contributing factor in helping put the country "on the map".  Air Astana will celebrate 20 years in May 2022 (its maiden flight was on 15th May 2002), has just acquired its 36th aircraft and its fleet, which includes Boeing 767, Airbus A320/A321 and A320/A321neo/A321LR and Embraer E190-E2, is one of the youngest in the world.  In May 2019 it successfully launched FlyArystan, the region's first truly low-cost carrier.
The Air Astana team of 5,500 is headed by Peter Foster, an airline executive with more than 30 years' management experience and its two shareholders are the Government of the Republic of Kazakhstan through its Samruk-Kazyna National Welfare Fund JSC and BAE Systems PLC (51%/49% respectively). The airline has been profitable every year since its startup year, is multi award-winning including, for example, the Skytrax Best Airline in Central Asia Award 2021 and now flies to 45 domestic and international destinations including direct flights to the Maldives, Phuket, Red Sea resorts, Sri Lanka and Montenegro. 
Operating in very different fields, but no less enterprising and entrepreneurial are examples of companies that showcase Kazakhstan's booming health tech and social enterprises.
One of these is GreenTal, a social enterprise which employs people with physical or mental health conditions to produce a range of items including wooden toys and metal shelving units which Emin Askerov CEO, likes to describe as "made by special people".
Emin credits the UK for providing some of his inspiration and learning about social entrepreneurship (he visited the UK in 2017) saying "what the UK has been doing in the last 40 years in terms of social entrepreneurship has really only been active for the last five years in Kazakhstan" acknowledging that, understandably and quite rightly, other societal concerns had come first.
Cerebra is a startup helping to solve a current healthcare issue by using AI-powered software to improve the early diagnosis of a stroke, which is the second highest cause of death and disability in Kazakhstan. Cerebra was launched in 2018 by CEO Doszhan Jussupov and works with CT scans, a cheaper technology than, for example, the MRI scans used in the UK and other more developed countries. The next stage for the company's development would be to integrate with MRI scans although currently there is a big enough local opportunity as Russia and most of the former soviet countries still use CT technology.
Like other countries, eco-activism has arrived in Kazakhstan and Miras Abbasov who runs a company called Uly Dala is doing his best to encourage recycling by producing environmentally friendly, bio-degradable bags, made from starch which decompose within three months. Although the main barrier to adoption is cost, he has a number of high profile brands including retail customers who are now purchasing from him as well as an enterprising group of mosques who ordered bio-degradable prayer mats during the pandemic. 
For any country's successful development, a skilled, educated workforce is essential and, without doubt, one of the institutions producing this educated graduate base is the Nazarbayev University [4]. Known for its Nazarbayev University Research and Innovation System (NURIS), which includes an incubator and business accelerator as well as a Digital Creativity Laboratory which, in partnership with Loughborough University, has been awarded Creative Spark funding to develop the skills of students and young entrepreneurs particularly in the creative industries. NURIS also boasts its own Technopark providing  tenants with state of the art co-working spaces, offices and laboratories as well as access to funding and business services such as patent searches. 
Focusing on a younger age group is the Elbasy Academy, an online school for early secondary school years, started in September 2020. Like many other countries during the pandemic, Kazakhstan decided to embrace online learning and the Academy's early results were impressive with over 15,000 subscribers, over 2 million video screenings and 27,000 individual lessons delivered. 
Kazakhstan is worth getting to know, perhaps precisely because it is not yet that well known outside of Central Asia for its innovation and entrepreneurial ecosystem. Peter Foster, the President of Air Astana, sums it up as "an emerging market with some challenges but Kazakhstan is open for business and very anglophile. You have to be all in in Kazakhstan otherwise you're not in at all."