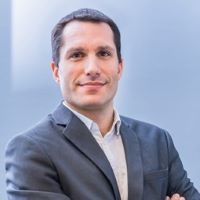 Hybrid working in one form of another has become the foundation of the new "normal." What solutions does Powell Software have to help SMEs keep dispersed workforces connected, collaborating and engaged no matter where they are?
SMEs, along with larger organisations have had to grapple with a myriad of challenges to keep their companies running successfully since the pandemic and the emergence of the new normal hybrid workplace.
Workers are often drowning in a multitude of digital tools which leads to confusion and 'tech overload', while IT teams are frustrated with having to implement and manage them all.
This all leads to inefficiency and poor productivity as SMEs, often with limited resources battle with effective employee communications. 
Now permanent hybrid working has become the norm, businesses need to rethink how they can implement effective ways of working to meet employee preferences to work remotely but 'together'. To address this, Powell Software developed Together [1], which is a next-generation company intranet specifically designed for small businesses to meet their communication and collaboration needs.
Together is a secure, all-in-one space, deployable in minutes, that allows companies and their employees to connect in a single simple, intuitive interface. It unites the intranet with Teams so that employees can find everything they need on one convenient platform.
Remote workers can feel left out of important decision-making processes does Together deal with this? 
Research has found that over 50% of remote workers [2] are worried about workplace exclusion as more people work remotely or in a hybrid way on a permanent basis.
Together was designed to not only provide employees with the tools and skills required to continue to do their job effectively, but to enhance overall company culture, helping teams work better remotely, feel more connected, engaged and empowered. 
The unique intranet portal for SMEs unites the entire company, whether working at home, in the field or in the office and is accessible from a desktop browser, mobile or in Microsoft Teams. Together puts company news in front of employees so it's easy to keep everyone informed and aligned.
It allows everyone to contribute and feel part of the team. Each department has an easily accessible space to share ideas, information, resources, and work on projects. Staff can do a quick advanced search to locate all the relevant information they need to do their job effectively; send messages and share and collaborate on documents, access company information and updates, as well as book holidays, record sickness onboard remotely and access IT support.
In the knowledge centre, everyone has access to learning materials, training resources, and the information they need to succeed in their roles. While FlexDesk [3] allows remote employees to easily reserve their desk or meeting space in advance of when they're coming into the office. And swift IT support enables workers to open a technical support ticket or find the latest software updates.  
Together also helps companies promote company culture and social interaction where employees want it, via Teams. Innovative features, including a  Virtual Coffee Machine and Water Fountain [4]  are virtual spaces where employees can connect socially with their co-workers, promoting social ties and fostering employee engagement.
Is it a complex installation and which department would typically oversee and own the project, IT or HR?
Because Together is integrated with Teams, the scalable solution can be deployed in minutes to the entire organisation. Accessible from the Teams application, a browser or a mobile device, the company's hub is always up-to-date and can be upgraded seamlessly to another version as needed. In addition, Together leverages Microsoft's security  to keep all data safe.  
The initial installation of Together would typically be managed by the IT team. After that the various departments, such as HR, Marketing or Sales, or the Office Manager would be responsible for feeding in and updating the content, so it's a team effort.
A  video demo of Powell Software's Together is available here [5] or to learn more, visit  Powell Software [6]