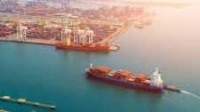 We spoke to Managing Director James Cross of DC Global Freight Management Limited, responsible for their chartered vessels sailing directly from Ningbo, China, to Liverpool in the UK. "I'll be honest with you," says James. "Our clients just want the container moved from China to the UK; they're not interested in the problems that we face on the route." James and his team are time served, having been in the freight industry since they left school.
"We need to allocate quay space for containers to be dropped off at the docks ready for loading. That's a logistical nightmare because vessels are constantly in and out of the port, so most are allocated just a three-day window for all the freight to be ready for loading. That was stressful, so we negotiated with CY (a container yard) for 24/7 access and space to drop cargo off anytime. Covid has its challenges, as you can imagine, but we also have to get truck drivers to move the cargo, and that's all before it's onboard!
Loading onto the vessel is another logistical headache that involves careful choreography to ensure the boat is well balanced for its long voyage. We need to make sure the paperwork is spot on. Once we're underway, we pray the weather is kind to us, that there are no hold-ups on the Suez if we go that route, and then we get to UK waters .Most customers have no idea that holding a boat at anchor in pandemic times because it can't unload is about as stressful as it can be; I have sleepless nights sometimes worrying. If the port is congested and we can't dock, then we bear the cost of the demurrage charges. This alone can sink a business if it goes on too long. But we have excellent contacts, relationships over many years, and our berth is already being programmed before we leave China or before any contracts are agreed to take clients loads. Once unloaded, there are quay charges, so the containers need to move fast. Hours and days cost everyone money, so believe me when I say we want to get the goods to customers more quickly than anyone.
Our regular sailing has captured the market at the right time, and we still have guaranteed space at very competitive rates that get the cargo to the UK faster than our competitors who stop on the route."
You can get more details from DC Global Freight Management [1]