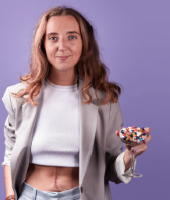 What prompted you to start Tabuu [1]
I had a rare pancreatic cancer removed back in January 2020 which subsequently left me needing to take around 20 tablets a day for life. As I'd need to be taking them with food, it meant I had no choice but to do it in social settings which I suddenly found myself apologising for and feeling awkward for having to do so. I searched everywhere for a thoughtfully designed, durable pill case and was really shocked to find nothing existing on the market for people with needs like mine. I was also surprised by the lack of open conversation in the media about medication, given the millions of people around the world like me who take it. So, I decided to build a brand to try and do something about both problems and Tabuu was born.
First business you have created? 
Tabuu is my first ever official business which I'm running alongside a full-time job as a Startup Development Manager for sustainable brands. Prior to my current role I worked for Unilever leading sustainability and social impact projects, which was an amazing experience.
How long did it take to create a product you could take to market and what were you aiming for when designing the pill cases? 
I had the idea for the business at the end of June 2021 and launched the product on September 22nd. I've run everything completely bootstrapped and it's taken a lot of hard work, learning and certainly some mistakes but I've really enjoyed the journey so far. 
When designing the products, I had three aims for their outcome. Firstly, give people taking tablets a thoughtfully designed, beautiful case that might make them feel just a little bit better about what is not necessarily the most exciting part of our day. I hoped that through beautiful design, products would open up conversations in social settings and get people talking about medication, thus relieving anxiety and starting to remove the stigma. Secondly, was to be able to donate a percentage of profits to charities supporting cancer research for the incredible work they do. Thirdly, was to make the product as sustainable as possible. I investigated using recycled materials which wasn't possible as I wanted everything to be food grade certified, so I opted for durable, recyclable stainless steel and fully recyclable packaging.
Did the Pandemic delay the project at all or was a September 22nd launch always on the cards?
The pandemic impacted our freight times due to additional measures at customs, but I would say the biggest impact of the pandemic on Tabuu has certainly been cost. Products are made from durable, food grade stainless steel, of which the price has drastically increased. Freight costs again are significantly higher than pre pandemic, so that had a big impact on my margins also.
How satisfying has the whole journey been?
Incredibly satisfying. I've received many messages from people telling me that they love the product and finally feel like their needs are heard, which means more than any number of sales ever could do. Also seeing customers on the site buying products and sending in photos of themselves with the product still doesn't feel real yet!