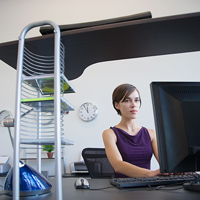 Location and the working environment can be the difference between success and failure. Day-to-day property management is not something that most companies want to worry about and that is why serviced offices have grown in popularity. They enable businesses to have accommodation that suits their individual needs without the hassle of finding, managing and furnishing the space.

The Benefits.
One of the main reasons why many businesses chose to take space in a serviced office is flexibility it gives them. Conventional leases, which typically last for ten or fifteen years, tie businesses in to their offices. This means that if during the life of a lease, a company's space requirements change - whether they need to expand or contract - they are unable to adjust without incurring significant costs, administrative issues or delays.
By contrast, in a serviced office tenants are able to expand and contract as they wish, usually at very short notice. This can be beneficial to businesses when times are good and they need more space quickly, or conversely when it needs to contract. With serviced offices neither of these scenarios are problematic, allowing companies to remain flexible - something that is increasingly important in today's fast moving economy.
As well as flexibility, serviced offices, such as those offered by MWB Business Exchange, allow businesses to enjoy an 'all inclusive' service. For a fixed price, tenants can expect to receive everything they will need to run their businesses, from desks, chairs and telephones, to staffed reception desks, cleaning services and refreshment facilities.
You might think that this flexibility and 'all inclusive' service would be more expensive for a businesses than a conventional lease, but in many cases it is in fact more cost effective. The costs involved will vary depending on the location, how many desks are taken and the length of stay, but serviced offices should not be thought of as an expensive option once all the associated costs involved in leasing or buying an office are taken into account. For example, a business in a serviced office will require much less space than in a conventional office as receptions, corridors and break out space is not leased in a serviced office but are with a conventional lease.
Who are serviced offices for?
Serviced offices are sometimes wrongly seen as the exclusive preserve of SME's looking for temporary accommodation, often in out of town business parks, but this is a misconception. While SMEs do benefit greatly from serviced offices - with the ability to set up quickly (within days) and enjoy facilities that they would otherwise not be able to afford, they are not the only ones who benefit. Larger businesses also use serviced offices in a variety of ways.
Some may choose to move their whole operation into a serviced office. In some cases, companies take a whole serviced office for themselves with the provider running it for them. Others may look to house 10 -20 % of their business in a serviced office as a means of allowing them to 'flex' with the market. If they need to expand they can do so quickly while any reduction in staff numbers can be accommodated too.
Businesses of all sizes can also benefit from serviced offices when they set up specific project teams, need to house people in another city or move their whole business to another location. Some will use serviced offices as an interim measure while they wait for permanent premises to become available.
Another option for small businesses, that has become available largely due to advances in technology, is the virtual office. With this, a business is able to enjoy the benefits of a prestigious address, phone number and call answering service but without actually having an office at the location. This can be useful for small businesses who are based at home but need a base and also those who have operatives working autonomously around the country. Calls, mail and faxes are forwarded for the client and meeting rooms or desks can be hired when they are required.
While serviced offices will never be a solution for every business - as there will always be those who wish to invest in property themselves or secure a location for a longer term - the flexibility and convenience of serviced offices offer solutions to all types of enterprise.
Services available
The level of service quality that a serviced office will give a business varies depending on which operator is used. In most cases things like desks, refreshment, reception and cleaning facilities are all included. Most operators offer many more services however, such as modern and ergonomic office furniture, 'break out' areas and full IT infrastructure. These services are included in the monthly cost while others, such as hire of meeting and conference rooms are available at many locations at additional cost.
One of the most important considerations for a business (over and above the facilities in the office) is the staff that run their office. It is important to consider whether these staff are well trained, able to respond to your needs and are friendly, welcoming and hard working. This is because they will, in effect, be an extension of your business and your brand and will often be the all important first contact your visitors have with your company. Staff recruitment is crucial for serviced office provider MWB Business Exchange and they currently provide the highest staff-client ratio in the industry. It is important to ensure that the provider you chose is dedicated to providing you with the highest quality employees.
IT
One of the main benefits of serviced offices is that your IT infrastructure can be managed for you by the office operator so that you no longer have to spend precious time calling your IT support if something goes wrong.
One of the main benefits of serviced offices is that your IT infrastructure can be managed for you by the office operator so that you no longer have to spend precious time calling your IT support if something goes wrong. A company will still supply their own computers but the network comes with the office. Some operators offer simple IT services, such as a shared network, while others offer a whole range of services for businesses that may require a high bandwidth - such as graphic designers, architects or tech companies. IT and telecom services are usually priced over and above your rental package, with prices reflecting the sophistication of the service you chose.

It is common for telecoms to be priced by the handset with pay as you go or unlimited packages generally available. This allows a business to only pay for what they use, adding more phones as they expand. Incoming calls will often be answered by receptionists in the centre, so again it is important to check that the operator places a central importance on recruiting and training their people so that they portray the right image for the business.


Room Layouts
Some might think that a business taking serviced office space would have to take what they are given in terms of desks and office lay out. This is not normally the case however, with many operators happy to work with the client to design and fit out the area to suit their requirements. Some businesses prefer a completely open plan arrangement with clusters of desks as this makes communication amongst the team easy. Others however, such as recruitment consultants, people providing counselling or other confidential and sensitive services may require private rooms around a small meeting room.

Most operators will offer furniture as part of the package, however if a business wants to use their own, (perhaps they have it from a previous office), then this can normally be accommodated. Likewise, if a business has specific requirements for furniture - maybe modern striking designs are needed, or a more traditional look - then these can also be accommodated, with the operator working with you to source the right furniture. It is also worth considering whether you require an unbranded work environment to allow your brand to grow or if you can work within a branded building that clients will know is not yours.

Signing up and pricing
For some small business, taking the plunge and looking for an office can seem a daunting task. A number of approaches can be taken to find a serviced office that will fit a business's requirements in terms of location, specification and price. The internet is obviously a good place to start with most operators having a web presence that will let you compare locations and services offered. Alternatively commercial property agents can be instructed to find appropriate serviced office space.

Paying for a serviced office is usually done through a monthly invoice and clients sign a licence agreement for the space that they will take - normally worked out on desk by desk basis. The fee is agreed during the sales process with extra cost added for IT and telecoms requirements. Any additional services that are used (such as meeting rooms) are added to the monthly bill.

As mentioned previously, serviced offices allow companies great flexibility to expand and contract and they also allow them to move in and out of offices very quickly. Businesses can generally move into their new offices within a week if they need to and sometimes within 24 hours. This will of course depend on what the office availability is within a certain location. Conversely, and unlike a conventional lease, a business can typically move out of a serviced office with as little as two or three months notice.

Conclusion
Serviced offices don't just offer businesses a temporary office space solution or small businesses a desk while they are starting up. They also offer permanent solutions to businesses of all sizes because of the flexibility they allow and the services that they provide, taking the hassle and administration out of office space. Increasingly, serviced office space is able to offer a whole range of office solutions whether that is an out of town open plan space or a state of the art, contemporary office right in the centre of London [1]. They also offer businesses simple and transparent pricing that can provide real value for money when all the costs associated with long-term leases are taken into account.

It is however important to use a reputable operator when taking serviced office space as a business will be relying on them to run their office for them - from fixing the microwave when it breaks down to answering calls or meeting clients when they visit. When looking for serviced office space, businesses should be clear on exactly what they need to get from the location and what services they value. If they do this then they give themselves every opportunity of finding an office where they can flourish.
For more information: www.mwbex.com [2]