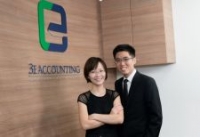 A tech savvy leading accounting firm, 3E Accounting Pte. Ltd. [1] assists small- and medium-enterprises by providing cost-effective end-to-end one-stop solution service to customers in Singapore. 3E Accounting provides a complete suite of services that address all aspects of Singapore company setup [2], start-ups and ongoing administration of your business entity, including corporate secretarial [3], immigration, taxation, GST, stamp seal making, etc.
Founded on the mission to provide 3 Es, which are efficiency, effectiveness and economical services, 3E Accounting has expanded their business overseas. After establishing an office in Malaysia in 2014, with headquarters located in Singapore, 3E Accounting has now further grown to create a support network group with a presence in 27 countries globally.
Led by a team of passionate, qualified and experienced professionals, they will provide customers with services beyond excellence.
Work Life Balance
With the aid of technology, 3E Accounting has become a corporate services specialist that promotes work life balance, allowing employees to work flexibly around the needs of the family in conjunction with their company duties.This family oriented working culture has successfully attracted many valuable professional female staff to the company, who currently make up 80% of the work force.
The company makes good use of the Cloud to back up and control all the work in progress, which enables the team to support each other during periods of absence and give the client seamless support at all times.
Tech Savvy Accounting Firm
In addition, 3E Accounting Pte. Ltd. has become the 1st accounting firm in Singapore [4] that implements the revolutionary double robotic technology.This technology, incorporated into the workplace, allows the company to focus on providing staff with a flexible working environment. It also allows the team to collaborate efficiently with other staff throughout the network, enabling all company employees to service their clients smoothly and efficiently.
3E Accounting Pte. Ltd is also very aware of the importance of employing software or online tools in today's business world and understands how the right technology can benefit all companies long term and give best guidance to their customers. Apart from that 3E Accounting also affiliate with IT Solution to provide customers with a wide choice of best solution IT services.
The company is also, from June 2016, a Xero Certified Advisor that provides Xero Cloud Accounting Software in Singapore [5], covering extensive business and tax advice, which assists  client's in setting up Xero software.
Furthermore, 3E Accounting Pte. Ltd. is also a QuickBooks ProAdvisor with proven deep and extensive knowledge of  QuickBooks Online Services [6], available to all existing and potential clients in Singapore
Awards and Recognitions
The efforts and hard work of 3E Accounting over a long period of time, have attracted numerous awards.
3E Accounting was recognised as an Approved Employer by ACCA in May 2012. The ACCA only approves companies that have excellent standards of staff training and development. With this award, you can rest assured that 3E Accounting meets or exceeds global standards for its teaching and developmental support.
3E Accounting was also listed in the Top 30 Accounting Firms in Singapore, as well as being featured in Singapore Business Review's Magazine, January 2016 issue.
In addition, 3E Accounting Pte. Ltd. was awarded as Top Player Firm in Singapore by Singapore Brand in March 2016.
3E Accounting Pte Ltd was also awarded with TAFEP Exemplary Employer Award 2016 for demonstrating fair and progressive employment practices.
Enterprise Services Insights also ranked 3E Accounting Pte. Ltd. among the Top 10 Premium Compliance Service Providers of 2016 in the APAC region.
The services 3E Accounting providing their customers are always of optimum quality.They not only can support your business locally but also facilitate business expansion overseas when you are ready.
Please contact 3E for further information
3E Accounting Pte Ltd
Address: 51 Goldhill Plaza #07-10/11, Singapore 308900
Contact:  +65 6690 9262
Email: info@3ecpa.com.sg [7]
Website: www.3ecpa.com.sg [8]