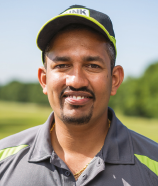 As Harsha Rathnayke found out while making a success of Junk Hunters and turning it into a £1 million plus turnover company yearly.
Eureka moment
I'd been working part-time for a rubbish clearing company when the boss decided to retire and close the business. Having just finished my degree, I decided to seize on this opportunity and accepted an old Ford Transit 3.5t tipper truck from him as my final
paycheck. It meant I lost about half my wages for that month, but it allowed me to finally start my own company.
Financing
Getting the business financed was for me all about perseverance. Initially, my application for a start-up loan was rejected by the bank. This meant I had to entirely finance the company myself, which I did by working two jobs. I would wake up at 4:30am every morning to deliver papers, and in the evening I was delivering takeaways for a local Indian restaurant, all whilst running an on-demand rubbish collection service in the day. This went on for about a year until I could finally quit these jobs and focus on my business.
Regrets
My biggest regret was always the initial failure to secure funding from the bank. Having to work three jobs at once was a tough decision to make, as it meant I could barely see friends or family. In the long run, being refused a start-up loan has left me debt free and with no loan payments to worry over, so in the end this negative became a real positive.  
What would you have changed?
Originally, the business was named 'London Junk', which became a pretty limiting brand when I started looking to franchise outside the capital. Looking back, I would've named the business Junk Hunters from the start, to save me the time and resources of having to re-brand the company.
www.junkhunters.co.uk [1]