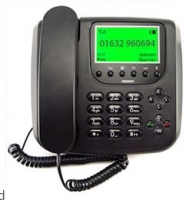 A company which made 75 million nuisance calls in four months has been fined £350,000 by the Information Commissioner's Office (ICO).
Mis-sold Products UK Ltd made the automated marketing calls between 16 November 2015 and 7 March 2016. The calls contained recorded messages, primarily promoting PPI compensation claims, but the company did not have the recipients' consent for making marketing calls, which is against the law.
It also broke the law by failing to identify the organisation making the calls, while it used so-called 'added value' numbers that generate revenue when an individual calls the number, which is then apportioned and passed to associated companies and the network carrier.
The ICO received 146 complaints from the public about mis-sold products. Some people were called on multiple occasions. Others said they were unable to opt out of receiving the calls. Some expressed further distress as they were concerned that calls late at night may have been from family members or those to whom they provided care.
The director of mis-sold - which had its registered office in Milford Haven, Wales, before it was moved in 2017 to Darlington, County Durham, had applied to strike it off the Companies House Register but the ICO has blocked the move pending enforcement action. This is to allow all options to be considered for recovery of the penalty, and for the actions of the director in running the company to be fully scrutinised.
ICO Enforcement Group Manager Andy Curry said:
 "This company blatantly ignored the laws on telephone marketing, making a huge volume of intrusive calls over a short period of time and without any apparent attempt to ensure they had the consent of the people they were harassing. "The ICO will come down hard on rogue operators who want to treat the law and the UK public with contempt. We hope the Government will bring forward plans to  introduce personal liability for directors as a matter of urgency, to stop them from escaping punishment after profiting from nuisance calls and texts. "In the absence of a change in the law, the ICO will continue to face challenges in the recovery of penalties, and rogue directors will think they can get away with causing nuisance to members of the public."
Some of the complaints received from the public about mis-sold products were as follows:
  * "As I receive a call from this number almost daily, it has become an intrusive and unwelcome interruption."
  * "I have been receiving calls from this number for many months, sometimes every day. I feel trapped in being unable to end the disruption to my attention and intrusion on my privacy. Calls are coming from two separate numbers."
  * "I receive at least two calls a day, normally more, from these PPI companies, despite the fact I always block the number as soon as I receive a call from one. This means my details are continuously being sold and it makes me very anxious and annoyed to know this is happening to my personal information without my consent."
  * "I am a carer and when I get evening calls I am anxious that it may be connected to the person I care for. It is an unwelcome interruption."
  * "We have been receiving calls for several months from this number, they call twice a day playing the same messages and even pressing 9 does not stop the calls, despite the promise to remove our number. It is very inconvenient and frustrating we are unable to opt out."