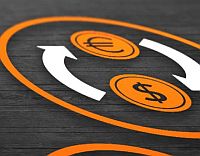 The past few years have been frantic with financial activity. Markets have been growing at an incredible rate, and 2018 has seen volatility go through the roof.
"Volatility in traditional markets and the meteoric rise in crypto have provoked a massive increase in day trading", says David Lojko, co-founder of Earn2Trade [1] LLC.
2017 was the year cryptocurrencies went mainstream and grabbed everyone's attention. Bitcoin's historic price run last year from £700 to £15,000 created a storm and Ripple gained an incredible 36,000%. Suddenly everyone wants a piece of the action.
This is partly down to the power and reach of social media. It has grown so rapidly, data is everywhere, and people are actively using it to make decisions.
People are becoming increasingly financially and technologically-savvy and want to trade alone rather than use a financial advisor or hold assets for the long-term. Trading is no longer exclusively for financial professionals.
Owing to long-term low interest rates, many investors are unhappy with the returns they are making from savings products and trading offers an accessible way to try and make a larger return on investments.
There are blogs, websites, trading academies and various other educational resources proving that day traders no long need to sit at a desk for hours on end, monitoring price movements.
Opening a brokerage account is a simple process and a fierce price war has driven prices down. With account minimums down to $0 and low-cost trading fees; the self-directed approach is becoming more appealing than ever.  
Getting started
So what are the first steps to take before you make your first trade?
1. Educate Yourself
The first step is education. There is a wealth of information available online so it's difficult to know where to start. As an absolute beginner, start to follow the daily market news on various sites such as Google Finance and the Wall Street Journal. This will build up basic knowledge and you'll become familiar with the markets and the terminology.
To enhance your knowledge, there are various trading courses available online starting with free beginner courses to full-blown packages, encompassing both fundamental and technical analysis with online mentoring.
The greater your knowledge, the more comfortable you'll be when it comes to making those trades.   
2. Find a Trusted Broker
Choosing a broker can be harder than it sounds. Make sure you choose a licensed broker with a strong reputation. If you are unsure, always check with regulatory agencies to ensure your brokerage is compliant.
Pay close attention to account minimums, low commissions and account fees. They can make a big difference to your overall position. Finally check to see if the brokerage is running a promotion; many companies offer new customer deals or a certain amount of commission-free trades.  
3. Practice, Practice, Practice  
A demo account is a great way for newcomers to explore trading for free. Most demo accounts are similar to the real thing with the exception that you are trading with virtual money. You can test your strategies to see what works and it's a great tool to spot your strengths and weaknesses.
Treat it like a real account and you'll get into good habits; this will make it easier to make the transition to the live market.
4. Keep it Simple
For new traders it's recommended to focus on one financial instrument. Forget the new ICO everyone is talking about and Trade the S&P E-Mini (ES) in the futures market which is the most actively traded stock index futures contract in the world or the EUR/USD in the forex market which is the most frequently traded currency pair.
They are both highly liquid and affordable for investors looking to trade around-the-clock.
5. Watch out for those mistakes
There are many simple mistakes new traders can eliminate from the start. Whether it's overtrading, overconfidence or letting losses mount up; it's important to trade with a well-defined plan. The aim is to build your discipline and stick with your strategy. Risk management should be an essential part of your plan.
Bottom line
As day trading is becoming more popular and more accessible; it's important to follow the right steps when starting out as an inexperienced trader. You have to put the time and effort in to educate yourself and learn how to eliminate emotion from your trades.
If you follow the 5 steps above and develop and adjust your strategy as you become more knowledgeable, you'll feel confident when clicking that button to make the trade.