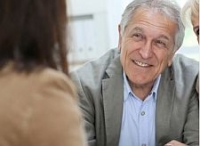 Sponsored Post
Especially giving the soaring rate of living costs in the UK, rising inflation at 3% [1] and the potential slowdown of the property market.
Or perhaps you have a special occasion such as a daughter's wedding, a much needed home improvement or simply the need to consolidate debts. Below are some of the most practiced ways for seniors over 55 to raise finance.
Downsizing
One of the most common things you can do in your senior years is downsize to a smaller property. Perhaps you no longer need a 3 or 4-bedroom home because your children have spread their wings and maybe a more sensible 1 to 2 bedroom flat will suffice.
Couples can add to their lifetime savings with the profit they make from selling their home and downsizing. In addition, households should benefit from paying lower monthly bills including their mortgage, service charges and utilities which could lead to saving thousands over time.
Equity Release
Equity release is able to those households with an existing mortgage that has already paid off quite a significant amount. Equity Release Schemes allow you to release up to 35% equity in your home and receive the funds in one lump sum and tax free. The idea is that once you die or no longer inhabit the home, the lender then has a claim on your estate and will make a profit when the property increases in value.
The main benefit of equity release is that it allows you to continue to live in your property which is perfect if you are happy with the location and accustomed to a certain way of life. In addition, you can still own a significant amount of it - so if it goes up in value over time, you can still benefit from this and pass this on in inheritance.
Lifetime Mortgages
Lifetime mortgages are a form of equity release that continues to run during the rest of your lifetime. This product allows you to release equity as and when you need it, whether you are 60, 70, 80 or 90. Therefore, you only use the amount you need and do not give away any extra equity in your home. You can continue to live in your home and also retain the value of the property so that it can be passed down as inheritance.
Pension
Naturally, your pension is designed to give you a stable, regular income every month to help you cover your everyday costs during retirement. You can continue to top up and add money to your existing pension and if you can sense that the cost of living is increasing in your area, it is important to budget for this accordingly.
Guarantor
If you are not a homeowner but are still looking to borrow money over the age of 55, you can explore a guarantor option. If you are on a pension and receiving a monthly income, you simply need an extra person to be your guarantor. This is someone who is in full time employment, has a good credit history and is willing to back up your loan if you cannot repay. There are around 12 guarantor lenders in the UK and customers can borrow between £500 to £15,000 over 5 years.