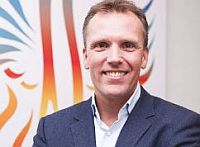 Having suffered from the same problems he is now endeavouring to cure in others, New Business takes a look at Jan Willem Poot's International Youth Clinic and business.
Eureka Moment
After having worked very hard for eight years to become the most effective and biggest youth clinic in the Netherlands, the dream that I had been working on for two and a half years finally became reality in August 2017 when we opened our international youth clinic. This treatment centre is for teenagers and young adults from all over the world who are struggling with mental health issues, addictions and behavioural problems.
Finance
Yes We Can Youth Clinics has been a financially healthy company from the start. Every Euro earned so far has been invested back into the organisation and is used to constantly improve the effectiveness of our treatment. We see it as our duty even though we do understand the need of keeping the company safe and financially healthy, to keep growing every year and to stay innovative.
Regrets
Even though it might sound harsh, I should have said goodbye sooner to people who unintentionally delayed the growth of the company. The reason I didn't was mainly due to the relationship I had with them. These experiences taught me to always put the interest of the company first. 
What would you have changed?
In the first five years, our turnover went from £2 million to £20 million and our team grew from 20 to 230 employees. I neglected to inform the entire team sufficiently about the growth we were experiencing and why, but eventually with a lot of effort energy and time, the team knew why we were expanding and where we were heading.
For more information visit www.Yeswecanclinics.com [1]