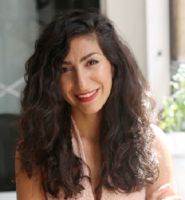 A company that has helped charities and small businesses save over £2 million over the past five years by offering them unwanted corporate items for free, diverting over 5 million kilos of waste from UK landfill in the process
What prompted you to start the company back in 2013?
I was working in an investment bank and the facilities dept where I worked disposed of quite a hefty amount of furniture and computer equipment when moving offices - costing it around £50,000 per person. While that included labour and costs, we were only going across the road!
I began to think, why has no one digitalised waste?  Airbnb and Uber were just starting to hit the market - and so Globechain was born.
The idea behind it is that corporates upload the unwanted goods in bulk onto the marketplace and alerts get sent to the members including small businesses. Whoever is interested, requests the item and picks it up for free.
It's a bit like eBay, but better, as the Globechain system then collates social impact data on the giving, breaking down the social, economic and environmental impacts.
Today we have successfully partnered with some of the world's largest brands to divert over five million kilos of waste from UK landfills while saving small businesses and charities over £2 million in equipment costs.
How long did it take to get off the ground and was finance a problem in the early days?
I bootstrapped it for the first three years and with no funds at all, signed up over 1,000 corporates, 10,000 users and established a presence in three European markets. The business started making a profit in year four.
I made the decision very early on not to pursue funding after spending a few months understanding whether investors would take the risk and that Globechain was not within the traditional criteria for government funding. Early days, investors were sceptical as there was no market cap (now $4.3trillion!), so I was not only trying to prove there was a business case for a marketplace (which are harder models to crack), with no market capitalisation, I was a single female founder - the odds were stacked up against me.
In my experience, the investment arena in the UK is very risk-averse for new business models. We've had to be really innovative to grow and I think that has driven our success to date.
Having proved that it is a sustainable model in three years, I am now focused on consolidating the UK business and scaling internationally and have attracted venture capital funding. I remain fully focused on my own "commercial with a conscience" mission and only work with like-minded investors.
Globechain [1] has been described as the leading UK reuse marketplace. What exactly does that mean?
We are the largest UK marketplace connecting corporates to small businesses, start-ups and charities to encourage reuse, and the only one globally providing social impact data. Around 97% of the items listed on the marketplace are reused rather than recycled or resold.
We have won numerous awards to date for our work in the circular economy - a $4.3trillion market predicted by 2025 (McKinsey / Ellen McArthur Foundation).
We are also seeing significant traction with leading corporates and are in advanced negotiation stages with several global partners.
With over 10,000 organisations currently registered on the platform, we have helped over 14,000 communities and 82,400 people globally to date - be that providing a full office kit out for a start-up business or a new meeting space for a social enterprise.
We want to push the boundaries and make people think differently about waste.
How does it work and who would use Globechain in the UK?
To date we have helped some of the world's largest brands - Nandos, NHS, Marks & Spencer, B&Q and Radisson Hotel Group to name a few - list their unwanted items or obsolete stock.
We then have over 10,000 members who can request the items for free including start-ups, social enterprises, SMEs, charities - anyone who wishes to reuse the items.
The system then collates social impact data on the giving, so we actually break down the social, economic and environmental impacts. We collect data on things like if people reused items, the savings, if they helped indirectly with up-skilling or employment levels or enabled them to win grant funding and so on.
The aim of this data collection is to assess the social impacts of the goods passed from one member or to another, which can help businesses achieve corporate social responsibility goals, community engagement or win tenders.
Talk us through a typical transaction?
There's no such thing! We work with corporates across the retail, hospitality, medical, construction and office sectors. The most popular items to date include refurbishment materials - from chairs and dressers, to tiles, carpets and fire doors, white goods, artwork, lighting and retail fixtures and fittings.
I'd encourage any start-up or small business to sign up to see what we have to offer - it may be some new office kit; shop fittings; or 13,000 pallets of kitchens...  there is always something for everyone that can help reduce capital or inventory costs. We are increasingly seeing eco-designers too and it's great to see items transformed. Its free to sign up and easy to use: just browse, request and arrange collection.
Is there a minimum size deal and what would be the largest that Globechain has ever facilitated?
There is no minimum, although corporates list in bulk. Our largest listing to date was 13,000 pallets of new kitchen units - reserved by seven charities in 48 hours!
Is the name Globechain a statement that your ambitions for the company extend way beyond these shores and, if so, are you active internationally already?
Yes absolutely! We want to create global and local supply chains to reduce waste. We are continuing to scale into Europe and the US and are in advanced negotiation stages with several global partners.
What are you most proud of and how would the next five years look for Globechain?
Believing in the proposition and staying true to our values. It has been a hectic five years, but we have strong relationships with huge global brands and are really disrupting how they look at corporate waste and social impact. It is always worth it when you see a new workspace, or the latest eco-design made from items from the marketplace. Charities were saying it was their life line - this put the social impact element into perspective and I realised how powerful the domino effect was of donating what we perceived as such insignificant objects.
With regard to the next five years, the sky is the limit. We have some really exciting projects in the pipeline and are setting the pace for reuse and social impact reporting - attracting interest from across the spectrum, so watch this space and www.globechain.co.uk [2] for items that could help you on your journey!