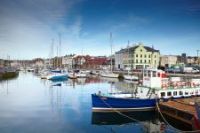 The island's global business centre is home to a number of big names and well-known brands as well as SMEs and start up enterprises. Though often acknowledged for its long-established financial services and insurance offering, there are a huge number of sectors that are established and experiencing growth, including eGaming, digital business, fintech, manufacturing, engineering, media, aviation, food and drink, and retail.
Businesses benefit from 0% capital gains tax and 0% standard rate of corporate income tax, ensuring a rewarding business taxation for your organisation. Personal tax rates are also attractively low, and unlike other jurisdictions there is no stamp duty payable and no restrictions on purchasing either commercial or residential property.
With such strong growth projected in the economy over the next 12 months, the government is being proactive about meeting the needs of businesses, not only now but well into the future. In his 2019 budget speech last week, Isle of Man treasury minister Alfred Cannan MHK announced a new National Insurance holiday for new and returning residents. The scheme hopes to attract more workers to the island, pre-empting the future needs of business and meaning that employees who fancy experiencing island life don't have to travel far to take home more pay. Under the National Insurance holiday, anyone who moves to the island for work who has not previously been tax resident within the past five years could be up to £4,000 better off in their first 12 months of employment. This is an agile and timely response to the needs of local business, which demonstrates the island's commitment to attracting and retaining business, and highlights the benefits of smaller jurisdictions with their own independent powers.
At present, alongside start up business training, mentoring and a popular Financial Assistance Scheme, businesses can take advantage of the Employee Relocation Incentive when recruiting off-island candidates, meaning that you could claim up to £10,000 per staff member employed into certain roles or relocating alongside your business.
The government is also working in stronger partnership with private sector than ever. In 2017, the then Department of Economic Development restructured as the Department for Enterprise, and formed four Executive Agencies consisting of both public and private sector members representing four key areas of the economy; Visitor Economy, Financial Services, Digital and eGaming, and Business (whose remit spans 16 sectors including manufacturing, engineering and biomedical sciences).
Mark Lewin, CEO of the Department for Enterprise, explains 'It is really important to us that we proactively work alongside the private sector, and we aim to remain as responsive as possible to support our businesses in their growth projections. Introducing a National Insurance holiday and addressing some of the costs and risks that come with relocation for staff sends a clear message that we are listening to the things that matter; both to employers and their employees.
'We have had many businesses successfully relocate to the island and embrace our broad and vibrant economy.
Apart from the clear corporate benefits, one thing they tend to be amazed by is our quality of life. We are a UNESCO Biosphere jurisdiction with over 95 miles of unspoilt coastline and over 26 Dark skies discovery sites - one of the most beautiful, and safest, places you could live. Coupled with that, we have all the social aspects that come with a thriving business community including nightlife and café culture, so you really can achieve anything you want on the island. It's smaller, yes, but it's easy to network here and make a real difference. Communities are close knit, and you
really can get business done simply and efficiently - plus the average commute time is just 20 minutes with the majority being far less, so you can be on the beach with your family or out mountain biking in our hills and plantations straight after finishing work.'
A free-of-charge concierge service facilitating visits and introductions to the island, is being delivered in partnership between the Isle of Man Chamber of Commerce and the Department for Enterprise. Business Connex, which launched in January, can also provide links for entrepreneurs and individuals to local parties, services and networks, as well as advice on the holistic elements of a relocation for your family and staff.
Jessica Kitchin, who heads up the service, comments 'BCX aims to ensure that business relocations and personal transitions to the island are as smooth and as welcoming as possible. The Isle of Man has so much to offer, from stunning scenery to some of the safest crime rates in Europe, and it's a pleasure to help demonstrate the benefits of operating a business here.'
Although the service launched very recently, Jessica says that they have hit the ground running: 'The number of enquiries so far has been fantastic, and they have been from a real variety of businesses. We know that there's no one-size-fits-all solution, which is why we make the service as tailored and personalised as possible.'
The Isle of Man is a crown dependency in the heart of the British Isles and is well placed for business, with more than 200 flights a week into the UK, including flights to London which take just one hour, and connections to Europe and international destinations.
For more information on relocating your business to the Isle of Man, visit www.locate.im  [1]or contact the Business Connex team via the Isle of Man Chamber of Commerce: [2]