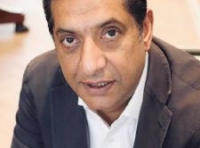 AndCo [1] has a different take on flexible workspace, where did the idea come from and how did you get it off the ground in 2017?
Having a great space to work, have meetings and be near to clients is key for everyone. Back in early 2017 the only options available were spending a fortune on co-working spaces, using your kitchen table - or overstaying your welcome in coffee shops. We wanted to provide a middle ground to all this, somewhere that doesn't cost the earth and lets you work when and where you need to. We then thought of all the restaurants, bars, cafes and hotel lounges that have so much space during the daytime... and realised there might be a match made in heaven. So we starting to speak to the venues, and the response has been amazing. We've now got over 60 co-working locations in London and more cities lined up to launch.
How does your workspace subscription service work and how does a subscriber reserve space?
It's really simple - our members pay a subscription fee of £20
a month which gives them unlimited access to bookable desks in all of our locations. On top of that there's secure and encrypted AndCo WiFi, a network of members and our weekly events.
No additional fees, just £20 for everything.
You book your space directly through the AndCo app or through the website, turn up - and get to work.
What kind of notice do they need to give to reserve and is there a minimum period?
There is no minimum period to book - and you can be at a location for as long as you need it. We recognised early on that people work in so many different ways - we have some people that use the same space day-in day-out and others that use them in-between meetings for a few hours. Each location has a certain number of desks available to book, so as long as there's one free you can make your booking right up until you walk through the door.
What type of locations do you offer for clients to work in?
In terms of the type of venue, they vary a lot with a mix of hotels, restaurants, pubs, bars and coffee shops. We love that members can choose an "office" that suits them since each venue has its own vibe. So whether you're looking for a cosy fireside spot or wanting something swanky - there's always options. In terms of location, our spaces are all over London, both central and further afield - and we're launching in other UK cities in the coming months.
What is the criteria for taking the providers of the workspace onboard in the first place and what are the benefits to them of working with AndCo?
We handpick all of our venues based on one guiding principle - would I work here? Productive environment, plenty of plugs, good travel connections, strong WiFi (and coffee) are all key. Beyond this it's important to remember we are providing choice. Everyone likes their own working atmosphere, so we look to cater for those different tastes. From the venues' point of view, they get to see some friendly faces during their down time - and introduce more people to their amazing spaces.
Is there a typical AndCo tenant and how long on average do they stay at one location?
The average booking is around three hours, and in terms of who is making those bookings - we have a huge range of people co-working with us. There are people looking to get out of their living room for a few hours, people looking for a spot in-between meetings, remote teams looking for somewhere to meet - and lots of people who have a fixed head office, but need somewhere in another part of town to be near clients or break their routine. We're seeing more and more of this fourth type of user as big companies start to offer flexible working policies.
How did you attract substantial recent investment?
Our investment comes from friends and family, alongside a family office. My background in finance has given us good contacts in the space.
Are these funds earmarked for further expansion in London, or do you have a UK city "hit list" in mind?
As well as growing our number of locations in London we're also working on expanding to a number of other UK cities. We've just launched our first two locations in Bristol and have other key places where we are working with regional AndCo representatives on expansion.
Do you think the business model will travel?
Yes definitely, and pretty imminently! We have started looking at other countries that have the same need for great value co-working, and we're in negotiations with some large venue operators to move into those places. Some of our existing venue partners will also help us scale globally as well.
Does the current business resemble what was in your mind back in 2017? What does the future look like?
We're still looking to provide a great value, flexible way to co-work, so in that sense yes! As with any start-up though, our business model is constantly under review as we generate more data and landscapes change. It's a fast moving market which
we can adapt to very quickly.
We are at a very exciting stage of our journey with a clear offering and a dedicated early user base - so we are raring to go.
For more information click here [2]