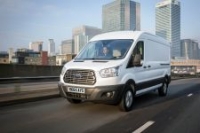 With the choice of finance options and mobility solutions on the increase, small and medium sized enterprises (SMEs) are faced with making decisions about the most appropriate solution to meet business needs. To purchase, or not to purchase? That is the question
A move towards van usership
As the trend appears to be moving away from vehicle ownership to vehicle usership, more businesses are choosing to take advantage of the rental and leasing option, which enables them to keep more of their cash in the bank. Vehicles are expensive assets to own and operate. When cash is king it makes sense for businesses to take advantage of the more flexible, less risky alternatives to vehicle ownership.
According to government statistics published in 2017, the number of licensed vehicles on UK roads reached an all-time high and of the 37.5 million vehicles on our roads, the largest percentage increase was in vans. Numbers of vans are up by more than 75% compared to 20 years ago and an increasing proportion are 'used' rather than 'owned' as individuals and businesses opt for rental and leasing options.
According to the latest membership data from the British Vehicle Rental and Leasing Association (BVRLA), the van fleet has risen 4% year-on-year, providing a clear indication that demand for rented and leased vehicles is growing.
Demand for all vehicle types has increased. The total number of light commercial vehicles (LCVs) across member fleets increased by 4% year-on-year, heavy goods vehicles (HGVs) increased by 10% and cars up by 4%.
The BVRLA LCV fleet has more than doubled over the last 10 years. 2018 figures show that the BVRLA fleet contained 840,480 LCVs, of which 168,970 were on short term rental. The lion's share of LCVs (619,925) were on corporate lease, a growth of 3% year-on-year, and the remainder (51,585) were on personal lease, up 25%.
The cost of ownership
If you buy a van outright, it appears as an asset on your company's balance sheet. Although this means you can qualify for some capital allowances from the tax man, it also means that your company takes on risk in the form of uncertain residual values and maintenance costs.
Buying outright, with no finance brings obvious benefits as there are no ongoing monthly costs or restrictions on usage, such as mileage limitations. The downside is that you must fork out a large amount of money upfront which may be better served as cash in the bank to keep cashflow healthy.
Another downside to van ownership is having the responsibility for every element of its upkeep, not to mention the fact that the asset starts losing value the moment you drive away from the dealer's forecourt.
For high mileage van users, the cost of maintenance and repairs may prove too high to make ownership a worthwhile option, particularly as the van will be worth less when you sell it on or trade it in against another van. You will also have to foot the bill for insurance, road tax and wear and tear items such as tyres and clutches.
The issue of wear and tear can be a concern for operators leasing vans as damages may incur changes at the end of the lease when the vehicle is returned. The BVRLA produces three different Fair Wear and Tear Guides. One specifically for LCVs, so it is advisable to go to a BVRLA member when leasing a van. You can search the member directory list at www.bvrla.co.uk [1].
The aim of the guides is to provide an industry-wide, accepted standard that defines fair wear and tear when vehicles are returned to a BVRLA member at the end of a lease or finance agreement. The guides also provide advice for best practice in vehicle maintenance and upkeep that will prevent unacceptable wear and tear from occurring.
Using a BVRLA member also provides the added reassurance that in the unlikely event of a dispute with the rental or leasing company, any unresolved disputes can be escalated as a complaint to the BVRLA Conciliation Service, which is an independent government-approved 'Alternative Dispute Resolution' service.
The attraction of leasing is that it provides an operator with a van for a fixed period of time and pre-determined mileage, in return for a set monthly charge and relatively low initial cash outlay. Having certainty around costs is attractive, particularly for small business owners. There are also tax benefits.
The monthly rate paid by an SME usually includes a 'service' or fleet management element, which can cover a range of additional services, including maintenance, replacement vehicles, accident management or fuel cards. Leasing companies can even provide breakdown cover through selected partners. By offering these services, leasing companies help free up valuable time and shoulder a major administrative burden for their SME customers.
Rental also has a place, offering the flexible option to businesses that only need a van for a short period of time, for example if they need a specific vehicle type for a one-off job or short-term contract.
Another cost consideration when evaluating whether to rent or buy relates to the environmental credentials of the vehicle. With fleets typically operating on a three-year renewal cycle, leased vehicles offer newer and greener vehicles. With the implementation of Clean Air Zones (CAZ) in many of our urban areas, it will be an important consideration for operators should they wish to avoid penalties and charges associated with driving non-CAZ-compliant older vehicles.
Both Birmingham and Leeds have confirmed plans to introduce charging Clean Air Zones by 2020, as mandated by the UK government. In addition, from 8 April 2019 the London T-charge will be replaced by an Ultra Low Emission Zone (ULEZ) which will operate 24 hours per day, seven days per week within the current congestion charge area. Further plans will also see this ULEZ extended to 18-times larger than the original zone by 25 October 2021. ULEZ charges will be £12.50 per day for non-compliant vehicles and will be payable in addition to the pre-existing weekday Congestion Charge and Low Emission Zone (LEZ) charge. The Mayor has also announced intentions to tighten the standards for the most polluting heavy vehicles including buses, coaches and lorries across the whole of London from October 2020.
In total over 60 cities across the UK are considering some form of air quality improvement measure, including CAZs. The BVRLA has produced an interactive online map [2] to help fleet operators easily track the latest status of these plans.