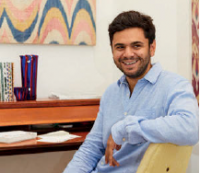 Eureka moment
There was no big Eureka moment but it all just came together at exactly the right time in my life. I come from six generations of Persian antique dealers and my surname, Atighetchi, means 'art dealer' in Persian, so it was a natural choice for me to study art history at university. However, after graduating I became a consultant at a global management agency. Long days and late nights stifled the creative side of my personality.
One night, exhausted from the non-stop stream of communications, I thought about the notes I used to write to friends and family while at university. It was then that the idea for Papier came about.
Financing
Papier [1] was founded with £250,000 of investment from angel investors. We secured a Series A investment of over £3 million in 2017 to support product growth and international expansion.
Regrets
There isn't much I regret to be honest as I really do believe that all experience is good experience and you learn through your mistakes and failures. In that sense, my biggest regret is probably not documenting more of our story. I wish I had taken more photos and videos to capture so much of the fun, laughter (and tears) along the way.
What would you have changed?
There are some things I think we should have done sooner as a business. We've been growing so quickly that there have been points that we didn't stop to ask our customers what it was that they loved about our brand and our products, but more importantly what they didn't like! We set up a team within the business just focused on listening to customers.
www.papier.com [2]