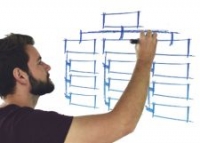 Matt Newing founded Elite Group [1] in 2000 with just two members of staff. Today, the company is one of the UK's leading unified communications and IT businesses with a turnover of more than £56 million.
"After nearly two decades as an entrepreneur, I've learned a lot about what it takes to make a business successful - and so much of that is about the people you surround yourself with. Without a solid team by my side, my company wouldn't have grown to what it is today.
Here are my top tips for anyone about to embark on their own journey as an entrepreneur ...
1.     Work with people who are better than you
Employ people better than you or you won't improve the skillset or knowledge of your business. A team of good people will not only help to ensure things run smoothly on a day-to-day basis, but will foster the innovative and forward-thinking approach needed to stay ahead of your competitors.
I've learned a lot from some of the fantastic people I've had the opportunity to work with and, whenever our company has made an acquisition, the people we take on are a crucial part of that transaction. Your staff are a major asset, so choose the best you can find.
2.     Hire a competent, commercially-minded accountant and lawyer
Building on my first point, there's no substitute for hiring an expert when it comes to your business finances and legal matters. As early as possible in your business journey, an accountant and lawyer are two crucial recruits.
You may understand some critical elements of business accounting, or you might have some level of knowledge about commercial law, but you need people who are purely focused on those elements of the business. Look to work with those people and firms that have industry-specific experience, whose knowledge of your sector will play a crucial role in helping you navigate the stormy waters of business life.
3.     Overfund your business
Cash is the blood flow of your business and your opportunities for growth will be severely restricted without it. When we came to do our second acquisition our bank said we couldn't invest our savings from our reserve account and that we would need to renew our existing facility, in other words borrow more money and pay an additional, new arrangement fee. Only then would the bank allow us to do the acquisition. As I had already shaken hands on the deal, I couldn't back out of it. Instead of being beholden to the bank, we decided to put all of our life savings in and pay off the bank to enable us to complete the deal. Subsequently we changed banks to one that has been a true partner.
4.     Make sure your business can run without you
Don't let your ego make you believe you're indispensable. Your business needs to be able to run without you, or mouths won't be fed if you disappear. Many entrepreneurs find it hard to lose that sense of control, but it brings me back to my first point about why it's vital to find good people to rely on for your business to be successful.
5.     Keep your focus on making money
The difference between an entrepreneur and an employee is that the former has to make money, whereas if you're employed by someone else, you have to earn your money.
Your business has to make money to pay your staff. Many an entrepreneur gets bogged down in their innovative new product, or their mission to change the world, and fails to remember that business is about making money to pay people. No matter how good your idea, if you don't have a commercial brain, you will struggle to make your business a success."