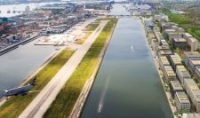 Representatives from two Chinese cities will be offering the incentives at events held at the UK-Asia Tech Powerhouse Conference at ABP Royal Albert Dock in east London. 
Leaders from the Jiangbei tech zone in Nanjing will launch their high-tech and innovation funding and support programme during the two-day conference on 11th and 12th June. At the event, China's leading technovation platform for IP and corporate services and Guangzhou based organisation, WTOIP, will also provide the opportunity for UK tech companies to present their ideas, products and innovations. Winning tech companies will receive up to USD$100,000 in cash rewards and the opportunity to join a tour of China's leading tech regions.
In addition to these collaborations, leading influencers from across trade, investment and technology will explore how the digital revolution is shaping the global business landscape, with a range of insightful discussions and debates. Key names to attend this year's conference include Singaporean entrepreneur Annabelle Kwok and key UK government trade figures for Asia, Trade Commissioner Natalie Black and Minister Mark Field.
"Our conference is the only event with UK-Asia focus among many London Tech Week activities and it will see some of the most important and latest developments in the tech industry debated by leading experts, from AI and the future of mobility, to blockchain and cybersecurity," said Chief Operating Officer of ABP London, John Miu. "It will also explore how new technologies are transforming sectors, how to deal with emerging governance issues, and how cross-continental collaboration can enhance the pursuit of these opportunities."
Mark Hedley, Regional Director for Greater London and UK Sector Lead (Technology), China-Britain Business Council said: "As the leading organisation promoting trade and investment between the UK and China, the China-Britain Business Council is seeing growing interest from China's private sector and government organisations for all types of collaboration in the area of technology and innovation. The Nanjing and Guangzhou initiatives are just two examples of the positive trend between the two countries."
The conference closes on the evening of 12th June with a speech by Lord Willetts, Chairman of the Eight Great Technologies Investment Fund and former Minister for Universities and Science. An awards ceremony for winners of the IPIEC Global 2019 competition will also be held and the results of the Microsoft and University of East London @Digital Skills Diversity' Hackathon will be announced.
To find out more about the conference and view the full list of talks and speakers  please visit www.asiatechpowerhouse.co.uk [1].