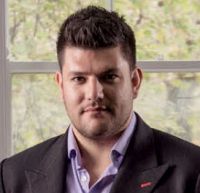 Still backed by Lord Sugar, he's now set on overhauling the digital marketing industry, as Nick Martindale finds out
Mark Wright is probably still best known for winning series 10 of BBC's The Apprentice in 2014; one of the fiercest contests the show has seen, resulting in an investment of £250,000 investment from Lord Sugar. But his entrepreneurial roots go much deeper; back to his childhood in his native Australia.
"Your childhood really shapes you, and you don't really realise how much until you're older and you start looking back on it," he says. "My mum and dad were both small business owners and I think that might have been what sparked it off. I saw my parents go through a really tough time to pay for school fees and pay the wages, and my dream of having my own company came from wanting to help them and solve the problems that I was hearing around the dinner table in the evening."
Early ventures included created the 'Mark & Co' cinema as a child, when he would charge people to come and watch whatever film happened to be showing on the TV in his lounge, and later washing cars at his dad's business; something he says he hated but which taught him the value of a hard day's work.
After leaving school, he targeted the personal fitness industry and moved from his home town of Armidale in New South Wales to Brisbane to become a personal trainer. "But I quickly learned that you can only train one customer at a time," he says. "I started training one of the richest men in Australia and I asked him how to get rich. He said not to be a personal trainer!"
Next up was sales, after asking the college he'd attended for his personal training certificate which careers offered the best way to make money. "I went in as a sales and marketing manager at the company where I did my personal training certificate, and they had designed a system where you could upload any personal training course and study it from anywhere in the country rather than having to drive to a city," he recalls. "It was quite revolutionary but they were getting no sales."
It was here that he discovered the potential of digital marketing, using the power of search engine optimisation to boost website rankings on Google. "When I joined the sales were $2,000 a month, and I said they needed a website and it needed to be at the top of Google," he says. "I taught myself how to make a website and get it to the top of Google and in three months I got us ranking number one for the words 'personal training course' and we went to $240,000 in sales a month. I learned a very important lesson too, which is that you should ask for equity in someone's business before you make it successful, not after, but that's where I figured out that I would go into digital marketing."
By this time, however, he'd already decided to go backpacking, and after a year of travelling found himself in London, living in a hostel in Victoria with just £170 to his name. He produced a CV in an internet café and landed a job at a digital marketing firm as a Google ad salesman. "I quickly realised they were ripping their customers off and weren't treating their staff very well, and I disagreed with the way they were training people," he says. "I took a business plan to the board of the company but I was very young, just 23, and they laughed me out of the boardroom."
Sugar coating
The next step was the bank to seek funding to start up his own business, but the fact he was not a UK resident meant no one would lend him the money. "I was pretty dejected and I was going to move back to Australia when one of my mates suggested trying out The Apprentice," he remembers. "I'd never heard of it or of Lord Sugar but I went down to a try-out and there were 75,000 people. But one thing led to another and I made it into the final 20 who went on the programme."
Wright describes the experience of being on the show as both "rewarding" and "the most physically and mentally demanding thing I've done in my life", with 15-hour days common and some lasting as long as 20 hours. But it was also a massively beneficial experience. "It helped in so many different ways," he says. "Firstly it teaches you how you can learn from other sectors; one day you can be coming up with a candle, the next you're cooking and baking, and then trying to sell holidays. It just shows that you can learn multiple concepts and industries more quickly than you think. It also shows you how much pressure you can cope with and how much you can push yourself on a daily basis. A lot of people aren't trying to learn continually and they're not working hard enough, and that showed me what I was capable of."
He believes the series he was on was the hardest one to win, based on the calibre of the other contestants and their business ideas. "I think the reason I won was because I understood my sector, whereas others were pitching businesses in sectors they hadn't worked in before," he says. "But Lord Sugar said in his book that I had one of the most ruthless business demeanours he'd seen in the 10 years of the show. I don't know if that's a good thing or not, but I think he felt it was a safe investment and he thought he could trust me. I could feel that towards the end of the process I was doing and saying the right things."
Immediately after the show finished, Wright met with Lord Sugar and went through the business plan. "He does have a team of people he puts around you but he doesn't shirk away from it; he was in all those initial meetings and calls, and he's very hands-on even today," says Wright. "He demands to know what's going on, where the business is heading, what the profits and turnover are, and what we're doing with offices. He takes a great interest in the success of the company, particularly from a financial standpoint, and wants to know every little detail."
Lord Sugar acquired a 50% stake in Climb Online [1], as the new operation would be known, and would go on to recoup all of his £250,000 investment within a year as the firm expanded rapidly. "In the first year we grew to 14 staff and £1.9 million turnover," says Wright. "It was crazy and the phones were ringing off the hook. It was a culmination of the investment that we had and the publicity that the show had given us." The firm quickly moved out of Lord Sugar's building, Amsold House, and opened a head office in Russell Square.
Other offices would follow, in Manchester and Bristol; the latter following an acquisition of a failing rival. "That showed us that acquisitions were a big play because we added over £1 million turnover, five employees and an office without having to do anything other than apply our strategy and our management," he says. "We did the same in Manchester but instead of an acquisition we started from scratch up there and it was very successful. We're not looking to expand regionally any more because having an operation in the north, the south and London is enough."
Shaking it up
Today, the business has just under 50 full-time employees, as well as a number of contractors and part-time staff, and turned over £4 million last year with a projected figure of £10 million this year. Wright admits that having Lord Sugar onboard and the legacy of The Apprentice show helped build the company's profile in the early days, but attributes its ongoing success to disrupting an unregulated industry.
"There are over 3,000 digital marketing agencies in the UK so it's a highly saturated market, and there are some real cowboys out there as well as some very good businesses," he says. "It's very hard for the average business to differentiate the good from the bad but we don't outsource any work; everything is done in the UK, in-house, and that's very rare for digital marketing agencies these days." It also recently introduced a pay-on-results policy, which has never been done before in the sector, he adds.
Wright now has the aim of turning Climb Online into the leading agency in the UK. "We're looking to make five acquisitions in the next 18 months, because it's much easier to buy revenue and turnover in than it is to grow organically," he says. "We want to take the company to £500 million turnover within five years."
There are also plans to start up operations in the US and Australia, he adds, but admits that controlling the growth will be important. "We've not had any problems scaling at all but it's making sure we do it in the right fashion," he says. "Our industry is so erratic and so many companies in our sector have a huge turnover of staff and clients because they're just going out and getting as much in as possible. We pick our clients; we don't just work with anyone, and it's reinvented an industry that's been a bit cowboy-ish."
That's not to say that there haven't been lessons along the way, however. Despite Lord Sugar's guidance, Wright admits to an initial reluctance to hire people. "Most entrepreneurs try and do way too much themselves and stay too small for too long because they don't want to incur costs," he says. "I was no different when I first started; you're so precious about every little thing that's happening in the business and trying to do it all yourself that the growth really stunts.
"When I talk to entrepreneurs now I say you need to get all of that thinking out of your mind because you need people in your business to grow. And focus on big customers and getting the right customers into your business. Most people don't believe in themselves enough and go out and find small customers, do all the work themselves and then they wonder why they stay a sole operator for three or five years." It's also important to bring staff in at the right level, including paying for experienced people, he adds, as well as to invest in building up a decent website as a shop window.
Branching out
Beyond the day job with Climb Online, there are a number of spin-off projects which are also keeping Wright busy. He's recently launched the Climb Academy, which now offers an online course leading to a Level 1 certificate in digital marketing for those interested in entering the sector, which is also being made available free of charge to the Prince's Trust.
"That's something I'm really passionate about because it's providing education into our own sector and helping to recruit the right type of staff into my business and other digital marketing companies," he says. He's also developed software called Climb Cloud; aimed to help other digital marketing agencies run their businesses more effectively.
Another focus is the Climb Con [2], a one-day business event being held in June where people can learn from Lord Sugar, Piers Morgan and Wright. "It's a business coaching day so people can ask about any challenges that are happening in their business, so staff, scaling, selling, buying, and we're able to help them," he says. "I was going to do it on my own but I ran it by Lord Sugar and he said he'd do it, and I asked Piers Morgan and he said he'd do it too. It's great to get us all in the same place at the same time."
As for his own future, Wright has plenty to keep him occupied. As well as Climb Online and its various associated projects, he's acquired a stake in PR firm Make More Noise, a web operations start-up called Making Websites Better and two property businesses. "The way I see my career going is being an investor, mentor and coach to the general managers of the businesses that I own, as well as staying in my day-to-day role at Climb Online and scaling that as big as possible," he says. "I want to see that go out to sale or go public, and then I'll probably move to the board." He'd also like to spend more time in his native Australia in future, and can see a time in years to come when he splits his time between there and the UK.
Outside of work, his passion for fitness remains - he recently completed the London Marathon in just over five hours, raising money for Dementia Revolution through the Alzheimer's Society - but admits he has little time for anything else. "The boring thing about entrepreneurs is that we do work a lot," he admits. "It's six days a week and 12-to-15-hour days so you really have to enjoy it."
One thing, though, is undeniable; he's come a long way since finding himself almost penniless in a strange country a few years ago, thinking he really ought to get a job. "It's almost unbelievable," he reflects. "Sometimes I have an almost out-of-body experience. Essentially I was homeless and broke, self-inflicted through travelling rather than anything else. But in this country you can go from being unknown, completely broke and homeless to a multi-millionaire with a billionaire business partner with a high profile within a matter of years. It's exceptional really."
The Journey From backpacker to boardroom
1989: Born in Australia and brought up in Armidale
2013: After an initial career as a personal trainer and then a digital marketeer, leaves Australia to go backpacking for a year
2014: Wins the 10th series of The Apprentice, attracting £250,000 in funding from Lord Sugar
2015: Launches digital marketing agency Climb Online
2017: Listed on the Forbes 30 under 30 list [Europe]
2018: Named Entrepreneur of the Year at the 2018 UK Business Awards
Launches Climb Academy to improve the UK's digital skills
2019: Launches Climb Con, a one-day business event to help entrepreneurs