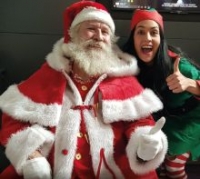 Nick Burton downs his sack and talks turkey with New Business
To start, when did you first realise you bore more than a passing resemblance to Father Christmas?
Well, actually being Santa, it is no surprise that I look like him!  But as the years have gone by, and the beard has turned to white, more and more people called me Santa.  And I have the most wonderful costume made especially for me by my friend the fabulously creative Jane Purkiss. Its fun to wear and couldn't look more Santa-y!  There can really be no mistake!
And... when did you first appear as the great man commercially?
I have been Santa-ing for a few years now, starting with a bang, when I shot a European TV commercial in Germany as a grumpy Santa. For air-freshener.  Very Christmassy!
I have to ask... are you predominantly an advertisement or commercial Santa or do you have appearances where a few ho ho ho's are expected?
I enjoy doing photo shoots and commercials, because you can work with the director to get the best result.  And there's usually a quirky scenario which makes the shoot fun.  Appearing live can be exciting too, but there's a lot more which can go wrong!  I like children (but couldn't eat a whole one...!)
Any high profile appearances - non rooftop? 
The range is very broad, from an organic christmas tree farm in Kent to a virtual reality experience in Manchester. Last year, I appeared in a Christmas advertising campaign for QVC.  It was shot in July, of course, which rather surprised QVC's queen of sun-tan lotion, who was appearing at the time.
Best Gig ? 
Very hard to say, but I think the one which was most appreciated was a private appearance for the grandchildren of a friend of mine. I had no idea how it was going to turn out, but the two kids loved it nearly as much as their grandmother!
Worst gig? 
All the gigs I've done have been a lot of fun, but I did turn down a chilly gig as a naked Santa for Extinction Rebellion!
Is it always you alone or do you end up in a much wider Xmas scene ever? 
Most of the time I appear with others, which is great, as they have all been such nice people. Sometimes they are just ordinary humans, but more often they are elves, which gives them the opportunity to get quite surreal on occasion!  Today was a first, though; I had a promotional shoot at the Fenn Bell Zoo, and ended up wrestling a raw chicken with a couple of hungry raccoons!
Is Santa having a busy 2019 Xmas?
Of course!
T'was the day before the night before, 8 days to Christmas
I asked him to wait while I went inside to get some mince pies and a glass of something to see him on his merry way but when I returned he was gone. Only some sizeable nuggets of reindeer poo in the office carpark and an email from Nick, were the only signs he was ever here. How he got them all in a VW estate beats me.
The not so little Saint Nick can be reached here - nickburton2014@gmail.com