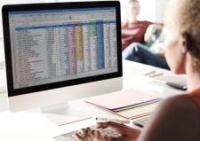 The freelance economy has become a huge boon to the British workforce over the last twenty years, with nearly 5 million Brits classified as self-employed [1] as of 2019. In particular, their benefit to SMEs is clear - rather than hiring full-time staff who may not be necessary on a long-term basis, freelancers can be contracted for specific projects or periods of time. This enables them to focus on the single project or commission for which they are most needed and best suited.
However, one of the biggest risks businesses face when hiring freelancers is the potential for their intellectual property to be exposed. By giving a consistent stream of new staff the ability to access their servers and every file they keep in the cloud, key documents or confidential information could easily be lost or stolen.
As such, many companies have emerged to help SMEs keep their assets safe in one way or another. If your business regularly hires freelance workers, or is considering outsourcing certain projects to external staff, read on to discover the software that could protect your IP and keep your remote team organised.
EASA
One of the biggest issues businesses face when sharing documents via the cloud, be they spreadsheets, word documents, or databases, is the risk of vital information or underlying formulas being overwritten, rendering what could have been years of work useless in a single keystroke. If your business regularly needs to collaborate with freelancers on spreadsheets which contain complex or confidential information, you can't risk it falling into the wrong hands.
One company set up to combat this problem is EASA [2], whose software lets businesses convert their spreadsheets into web-enabled applications and, as they put it, "completely eliminates the need to email, download, copy or edit spreadsheets". Instead, your company's main Excel file serves as the underlying source of information for a customisable app, which can be designed to control just how much of your proprietary information each user can access. Different variations of this app can then be sent for others to work on, without any fear of data being seen by the wrong people, or accidentally deleted or altered without permission.
Slack
For the duration of any given project, your freelancers will need to be kept in the loop about what's going on at your company. However, you would be forgiven for being reluctant to give them a company email address or allow them a permanent account as part of your Google Drive. The latter may be particularly frustrating, considering this also leaves you unable to communicate with each other on an ad hoc basis via Hangouts.
Fortunately, programs like Slack [3] offer teams the chance to stay in touch with each other remotely, saving you from being inundated with emails by new starters. Access is easily granted (and revoked) by simply inviting a new email address into your team. From there, it's no different to any other messenger service, with users able to create channels to accommodate the entire team, or just a few key workers on specific projects.
Asana
Beyond being able to share documents with, and talk directly to, any freelancers joining your team on a temporary basis, it's also crucial that you let them in on your work timelines and foster a spirit of collaboration. There are a huge range of websites and programs which allow you to organise workflows across your entire team, but Asana [4] may be one of the most popular, whose revenue has risen by 80% each year.
The software is an ideal way to assign and track projects, with the ability to assign specific tasks to team members, and can be easily integrated with Google Drive. And as with Slack, Asana allows bosses to limit users' permissions, allowing them to only access the tasks and projects in which they are involved.