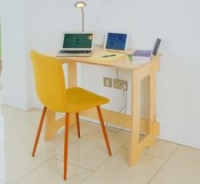 Especially when you have a poor record of opening well wrapped packages, let alone assembling stuff, over a lot of years. We have drawers full of bits left over from items I have put together. I still have nightmares over opening an expensive Lego ship one Xmas eve, present for young son when he was very small. Way too small to cope with that project, which was all too clear when the myriad of bits tumbled onto our carpet. Which is why we have a pirate's hat and a bit of keel in with the other assortment of off plan junk just in case, and also why he got his present on Boxing day.
Anyway, this is the level of expertise I brought to the opening of the packaging of the 60 Sec Desk.
The instructions are quite simple and need to be but unlike dyslexia I have instruction blindness. Not sure how many of us are out there with it but it renders you unable to build stuff, play musical instruments, or assemble furniture designed to be extremely straightforward to fix up. Brain and hands don't communicate that well in creative situations and I have objects made from schooldays to back up this statement. I keep them to remind myself "don't go there again".
So unboxed, first impressions
Well made, sturdy, lacquered surface, heat resistant and although designed to be a desk you can take up and collapse quickly, with many of us working remotely in less than ideal situations, it wouldn't be out of place in any office, home or elsewhere, permanently.
OK then, just me and the desk and a timer on my phone, all bits unpacked, and no screws or tools needed. Is that because I have mislaid them already I thought? but no, this is cleverly designed to fit perfectly without any additional fixtures and fittings.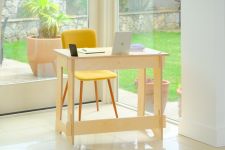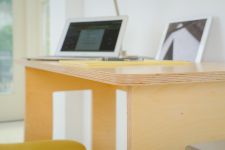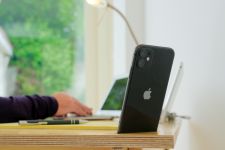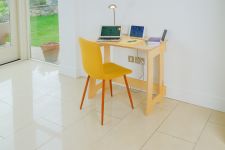 Positioned as per the assembly guide and... off!
 A little hesitation and uncertainty on my part with one of the cross rails but 90 seconds later it was all up and ready for biz. Personally, with my background, this is over 5 hours quicker than anything I have worked on before and though I saw it as a triumph, I suspect Paul Jacob, CEO. of the makers, Clever Closet, wouldn't see it that way.
Round 2 - The taking down.
Its designed to be used temporarily. How many households now have husband and wife working at home? Even if you had a desk, you are still one short with potentially no permanent room for a second, Hundreds of thousands of remote workers are currently working from a sofa, or worse, a soft bed just a short step away from back problems, so a proper sitting position is extremely important.
Timer on again, a blistering 32 second take down. So, an up and down time of 2 mins 2 seconds. Still, now all my competitive instincts have been stirred.
Unlike anything we bought from Ikea that seemed to pine for the Swedish Fjords (yes they do have them) and all the component parts never liked me, the desk and I had bonded... without glue, without nails.
Round three - Can the 60 second desk be assembled in 60 seconds?
I have to admit I felt confident for the first time since our glasses fell through the display cabinet in the living room and I moved away from non-assembled furniture, so timer set and off again.
A blistering 52 seconds - back of the net!
Personally, I think I can shave that further but let's not get ridiculous about this, it's a great bit of kit and it does what is says on the er...box! and does it well.
A design for the times that works and though I imagine the current assembly record holder works for the makers of this desk [1], I feel with a little preparation a sub 30sec attempt is very doable. 
Chris Westcott
Director 
New Business