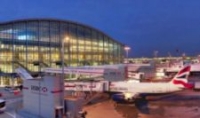 Failure to act will have long-term implications for airport communities across the country. That is why GMB London and the Back Heathrow campaign have come together to make the case for urgent action to protect jobs, businesses and the communities we represent. 
As Covid-19 has swept across the world, those at the heart of ensuring global connectivity have been hardest hit. Heathrow, the UK's only hub-airport, was operating at 98% capacity before the virus struck. Millions of people were passing through every month, but by August 2020 passenger traffic had fallen by over 80% compared to the same month last year. 
It is a dire situation for airports, airlines and the wider supply chain with businesses employing hundreds of thousands of people either collapsing or on the brink. A huge hole has been blasted in our national economy, leaving the country woefully underprepared for life in a post-Brexit world. It is clear - this is a national emergency for aviation that requires significant, urgent action. 
However, instead of taking measures to ensure Britain can protect jobs and trade, the government has passively watched from the side-lines as thousands of skilled, unionised jobs have been lost. We believe there is a real danger that many sizeable airport towns and cities will lose businesses and jobs that may never return, leaving ghost towns where once we saw thriving, diverse communities.   
The government can, and must act decisively to prevent this by:  
1.       Recognising the contribution of aviation to the national economy. Over a million people rely on the sector for their livelihoods, and our public services need the £22 billion it adds to our GDP. Aviation is a special case, and the government should recognise that.  
2.       Ensuring government investment is supported by a plan to transition to sustainable aviation. Creating a greener industry that meets the demands of a net-zero carbon world can benefit jobs too. By investing in Sustainable Aviation Fuels the government could support aviation and deliver on our environmental commitments. 
3.       Providing immediate support, by ensuring the Job Support Scheme remains in place for as long as it takes to protect aviation jobs; and offering respite for airports to help retain staff through the deferral of business rates - as we have already seen in Scotland and Wales.  
4.       Creating a national standard for safe flying with appropriate levels of PPE for staff and replacing the blunt quarantine policy with Covid testing at airports - restoring passenger confidence to fly again, as over 50 other nations have done already.
5.       Stop delaying Heathrow's expansion. When the Supreme Court has had it say this Autumn, the government should concentrate on delivering the long-term capacity at Heathrow that Parliament and an Independent Commission has called for. London and the country need the 180,000 new jobs and 10,000 apprenticeships that expansion will deliver. This can and must be done with strict compliance to the Paris Agreement on Climate Change. 
It is time for the government to get serious about our airports, our aviation industry and its vast supply chain. GMB London and Back Heathrow want action to protect jobs, action to help businesses to trade and action to ensure the fabric of life in so many airport towns remains intact. There is no more time to lose. 

Warren Kenny -  London Regional Secretary, GMBUnion                                       
Parmjit Dhanda, Executive Director, Back Heathrow campaign