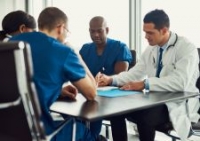 The importance of the health care industry has grown over the years. Healthcare services include a variety of activities such as prevention of diseases, treatment and cure of the disease and health promotion. 
There are different fields in which the service providers are involved, such as administration of medicine, diagnosis, diagnostics, treatments, hospitalization, etc. A large number of people are engaged in these activities of health management.  
1.     Nursing
Nursing degrees offer a wide variety of career opportunities. Nurses provide healthcare services to patients of all ages. With a Nursing degree, you can become a Nurse Practitioner or even a registered nurse. The salary for nurses varies depending on education level, area of specialisation and hours worked.
RN licensure is the first step to become a registered nurse or LPN. To be eligible for RN licensure, one must complete either an associate's degree at an approved nursing degree institution or pass the NCLEX-RN licensing exam. People who want to further their associate's degree take online classes, such as those at RNtoBSNProgram.com [1]. 
RN licensure requires completion of at least 85 credit hours at an accredited nursing degree program, including coursework in anatomy, biology, nutrition, patient safety, pharmacology, psychology, sociology and statistics. 
2.     Biology
Biology is the study of living things, and an excellent option if you plan to have a career in health care. Bachelor of Science (BS) in biology will open doors you may never have dreamed of, including a career in molecular biology, genetics or pharmacology.
Most advanced medical degrees like human physiology would require pre-med courses like biology, so it's smart to take this major if you're planning to get an advanced degree in the future. 
3.     Psychology
If you want to get into mental health and its related sciences, taking a psychology degree is a good start. Medical technology refers to the practical application of science and technology in medicine to enhance the care of individuals in various health conditions.
To have a flourishing career in psychology, a master's degree is required. The advanced degrees will allow you to pursue careers in therapy, counselling and social work. 
4.     Public Health
A public health major is an ideal degree track for those interested in public health and other related areas of science. Public health trains students to protect society's general welfare and the environment by ensuring the safe consumption, development and regulation of chemicals, foods, drugs and other substances.
As public health scientists, these individuals help to reduce the risks of disease and help the public make educated decisions about their health and environment. These careers require a lot of dedication and thoughtfulness.
5.     Occupational Health & Safety
This degree focuses on the safe handling of hazardous materials and preventing workplace accidents that often result in injury.
To get your degree, you will need to decide which part of Occupational Health & Safety interests you most. One option is the social and health sciences, where you can specialise in nursing, elder care, nutrition, and recreation. Another option is engineering and mathematics departments, where you can focus on ergonomics, safety, and biology courses.
6.     Chemistry
The Bachelor of Science in Chemistry offers many career options. These include everything from biochemistry experts who test and interpret results for drug companies to those involved in the manufacturing of medical equipment and devices.
With the bachelor's degree, a student can specialise in any area of medicine or science and become a microbiologist, physiologist or geneticist. They can become immunologists, virologists, pharmacists, counsellors, pediatricians and even environmental consultants. The possibilities are seemingly endless, which is why so many people enroll in these programs.
7.     Biomedical Engineering
Biomedical engineering or biotechnology is applying biological science and engineering concepts to biology and medicine for health care purposes. They conduct research and development to find a cure for different diseases.
The use of cutting-edge biotechnology tools and techniques is implemented to find solutions to such problems. Among the many tools and methods applied by biomedical engineers in this field are genetic engineering, cell and tissue culture technologies, cellular mechanics and nano-science technologies.
8.     Medical Technology
Students studying medical technology have an opportunity to work with patients or develop medical devices. You can also have a great career as an operations technologist, clinical assistant, medical coder, clinical laboratory technician, lab technician or pharmaceutical specialist. These careers can be performed at a hospital, clinic, school or office.
The degree programs vary widely in both the curriculum and coursework. Most associate degree programs provide instructions in computer science, anatomy, medical records management, pharmacy law and public health. Some offer a core degree in anatomy and physiology, and others include math, statistics and computer science.
9.     Pharmaceutical Engineering
Pharmaceutical Engineering is a growing branch of science focused on finding, designing, formulating and producing various medical drugs, including pharmaceutical drugs, technical drugs, generic drugs and biological solutions.
It uses the fields of biology, chemistry, pharmacology, and medical sciences. Some of the essential activities in this field include developing therapeutic agents, designing drugs, determining the effects of drugs, developing methods to protect patients' health, developing diagnostic tests and testing products for effectiveness and safety.
As part of pharmaceutical engineering, they design, develop, manufacture, test, package, store and distribute medicines. Another important activity is to improve the manufacturing process such as formulation, development of drug products, the production of effective equipment and technique, labeling, and packaging of products. 
10.  Physiology
Studying physiology will help you to develop skills in planning, conducting experiments and research while interpreting scientific literature. It's also a good pre-medicine course. 
Several interesting and unique careers are open to undergraduate students with a degree in physiology. They can become research assistants, clinical trials coordinators, surgical technicians, lab technicians and medical assistants. You can also work in medical sales, biotechnology or as a medical writer.
11.  Dentistry
Dentistry includes the study, diagnosis, treatment, prevention and management of disorders, diseases or physical conditions of the oral cavity. Dentists who specialise in orthodontics must have an accredited degree. Those looking to serve as dentists must pass a specialised national certification exam. Others are licensed and certified through special state legislation.
The subspecialty of dentistry that covers teeth and their cavities is periodontal dentistry. In this subspecialty, a dentist will work on the prevention and treatment of gum diseases and their complications, including periodontitis and gingivitis; they may perform any surgical procedures necessary to repair, restore, or reconstruct a damaged tooth or teeth.
12.  Clinical Nutrition
The Bachelor of Science in Clinical Nutrition degree program was designed to prepare students for careers in nutritional science. The program also prepares students to be registered nutritionists, who are respected leaders in the field. Students benefit from the program's challenging and comprehensive nature, while developing skills for a career in public health, academic teaching or research.
To obtain a Bachelor of Science in Clinical Nutrition, students must complete a series of core courses including anatomy, biology, chemistry, health sciences and math, as well as some additional courses. The bachelor's degree allows students to choose from one of four specialisation options, including dietetics, clinical management, nutritional studies and applied nutrition.
13.  Occupational Therapy
Occupational therapy [2] is a form of rehabilitation that helps people who have health difficulties to engage in meaningful daily activities. Occupational therapists focus on education, functional training and physical therapy to provide these everyday activities with ease, without relying on medicines or surgical intervention.
Occupational therapy is a growing profession, as they're considered allied health professionals. They work alongside nurses, physicians, speech therapists and physical therapists. They ensure that patients receive holistic care and recover from their illness or injuries.
14.  Radiation Therapy
Radiation therapists are assigned to treat cancer patients. Many hospitals have a hard time filling this highly specialised position as it requires the technical skills to administer radiation, as well as excellent communication and interpersonal skills to handle cancer patients.
Radiation therapists are expected to work very closely with cancer patients and provide them with psychological and physical support during treatment.
Most radiation therapy programs lead to an associate or bachelor's degree. They must be licensed or certified to practice where they live, and also pass a national certification exam. 
15.  Healthcare Administration
A degree in healthcare administration opens the door to a variety of rewarding career options. Careers in this field focus on business management, health care, medicine, government, environmental and public health.
Some healthcare administration careers which require more schooling include those in international health, podiatry, physical therapy, occupational therapy, professional nursing, registered nursing, psychotherapy and social work.
16.  Business Administration
Careers in healthcare cover a wide range of responsibilities, depending on the job that you're applying for. Most of them require at least some form of medical experience, but a few require additional educational backgrounds.
Graduates with a business degree from a reputable school can choose from several healthcare careers. Having an associate or bachelor's degree in business will help medical device sales, as well as hospital and clinic management. A business degree will allow you to hold management positions in many health institutions.
17.  Finance
Finance careers in healthcare start at entry-level and climb as you advance through the ranks. These careers range from accountants who manage the cash flow of accounts payable to doctors who bill insurance companies for their services. A finance major with a good mix of soft skills is well qualified to work in administration or management positions.
Accounting is one of the fastest-growing fields for finance degrees. Accountants help to increase efficiency, reduce fraud and waste, and communicate analysed information to decision-makers. These careers require a specific knowledge of accounting principles and laws.
18.  Human Resources
Employees in healthcare are considered to be one of the biggest workforces today. Handling a large workforce is a challenge, but a degree in human resources will help you to care for healthcare professionals working in hospitals, clinics and academies.
Human resources are an essential link between the employees' needs and how the company manages them. They tend to various functions such as recruitment, coaching, payroll, benefits and payroll administration. The healthcare sector requires expertise in many areas of HR to perform the various tasks related to it well.
19.  Information Technology
Earning an information technology degree will result in several rewarding career options. These degrees are popular because many careers in healthcare require information technology skills. As more healthcare employers use computer systems to track patient records and to process billing, more jobs are available for people with these skills.
A good choice for those interested in information technology degrees is the healthcare informatics field. This degree is beneficial for health care professionals who need to work with electronic health records (EHR). Graduates of this degree can perform data entry tasks and convert paper medical records into electronic medical records.
20.  Computer Programming
Hospital owners understand that innovation [2] is critical for their business's success and to improve patient care. Since everything is already digitised, programmers are in high demand in health care institutions to create software that helps doctors, nurses and other health care practitioners to be more efficient. These programs are used in data analysis, medical imaging and computer-assisted medical decision making.
Summary
Working in the medical field can be challenging but also rewarding. One of the more recent trends within the healthcare industry has been the rise of biotechnology research and careers. Some of the jobs available in this area involve developing drugs or products to cure diseases such as cancer. You can also focus on providing care to patients by becoming a nurse, therapist or a dentist.
Some degrees which may not have a medical focus are still in-demand in the healthcare setting. People who are graduates of information technology, business, finance and human resources are needed to care for the employees, managing institutions and creating programs to make healthcare practitioners' jobs easier, safer and more rewarding.