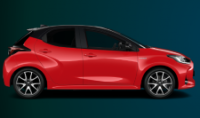 Year-end results show it achieved its highest market share yet at 5.19%; highest share of the passenger car market at 5.6 % and its highest share as a group (including Lexus) at 5.9 %.
Although sales volume was reduced, Toyota's decline of -12.6% was the lowest among volume manufacturers and significantly less than the -29.4% fall recorded by the UK market as a whole.
Within the past year, Toyota also recorded its best individual monthly market shares in March and September - the critical registration plate-change months - across the board for Toyota passenger cars, total Toyota brand vehicles and the Toyota (GB) group.
The proportion of hybrid electric models within Toyota's sales total continues to grow, rising from 59.3 to 72.5 % during the past year. The shift reflects the increasing range of hybrid models available and growing consumer demand for the well-proven efficiency and lasting quality and durability of Toyota's s.
Within the Toyota line-up, all the core models improved their market share performance, including the new Yaris Hybrid, Corolla Hybrid and C-HR Hybrid. The RAV4 Hybrid notably increased in its sales volume by 28.4% in a market segment that fell overall by 37.9%.
Performance in fleet and business car sales also established new record market shares: 5.5%  for Toyota passenger cars, 5.01% for all Toyota brand vehicles and 5.51% for all Toyota (GB) sales.
The health emergency required Toyota's retailer network to change their ways of working to comply with new restrictions. Their prompt and effective response, together with the use of user-friendly online video consultations and purchase tools, helped Toyota achieve its remarkable results.
Furthermore, during the current national lockdown, Toyota Centres remain open for servicing and repairs, with robust measures in place to ensure the health and safety of customers and staff. Digital online and phone services are available for new and used vehicle enquiries and sales. Full details are available are toyota.co.uk/covid-19.
Mark Roden, Toyota (GB) Operations Director, said: "Even though no one could have anticipated just how tough the trading conditions were going to be, our retail partners have done an exceptional job in keeping customers and their teams safe and keeping business going. The strong results we have achieved are in great part thanks to their dedication and, with Toyota (GB)'s support, their prompt and effective action.
"Beyond this, the figures demonstrate the strength of the Toyota product line-up, in particular the self-charging hybrids that are now the backbone of our brand. This year we will be reinforcing our range, in particular in the crucial SUV segment with the launch of the all-new Yaris Cross Hybrid, our first Highlander Hybrid and the RAV4 Plug-in Hybrid."
2020 results
| | | |
| --- | --- | --- |
| | VOLUME | MARKET SHARE |
| Toyota passenger vehicles | 91,361 | 5.6% - new record |
| Toyota LCV | 8,451 | 2.88% |
| All Toyota brand | 99,812 | 5.19% - new record |
| All Toyota (GB) (inc. Lexus) | 113,539 | 5.9% - new record |