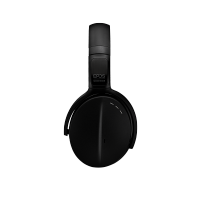 Lets face it, we are all spending a lot of time staring at screens now. Meetings, training courses, and even property viewings are now digital affairs, taking place over choppy internet connections with varying degrees of success. When EPOS sent me the adapt 560, I committed to using it for all of my professional communications, video editing, and even a little live streaming. At a retail price of £259, I went in with premium expectations for this premium price. Pleasingly, I was not disappointed.
Hardware Design and Aesthetics
Notably upon first time unboxing, the headset arrives in a small, eco-friendly cardboard box, printing the start up guidance within the inside of its packaging in lieu of a separate manual.
 A low-profile form factor that feels less bulky than many competing headsets, the ADAPT 560 is visually discrete, stylish with an attractive and sturdy build quality. The boom mic sits on the right of the headset, and when not in use, sits flush to the back of the ear cup very neatly. Padding on the ear cups feels thick and spongy, with a small circumference designed to sit on top of the ear. The device grips firmly and stays in place, and I did not notice any discomfort or excessive pressure over long sessions of wearing them.
A multifunction row of buttons arc around the right ear cup, with a small two-way switch for volume that also functions as play or pause, a pretty standard Bluetooth pairing button, and a dedicated Microsoft Teams button, which doubles as a "answer call" button. The low profile design extends to this buttons, looking stylish, perhaps at a slight cost of tactility. I found myself hitting the wrong button occasionally when operating them blindly, but this was not an issue for long. The device features a USB-C port and charging cable, something I am always delighted to see. I cannot express how frustrating it is to see so many manufacturers fail to make the move from the flimsy and perishable Mirco-USB, so this was a small yet significant positive.
Bundled with the device is a small usb dongle, ensuring the headset can be used with older laptops that may not feature a built in Bluetooth adaptor.
Audio input and output performance
During the 3 weeks I had using the ADAPT 560, there was little It wasn't used it. At this price point I was looking to see some flexibility, and I did feel I got exactly that. Zoom calls, hands free phone calls, and Google classroom sessions demonstrated the excellent active noise cancellation. Whilst my wife, a private school teacher, and I have to work in fairly close proximity, I was pleasantly surprised by the degree of background noise that was filtered out on both sides. Anyone on the other end of a call reported back very clear vocals, with no drops.
Listening to music apps like Spotify yielded a good audio performance. It lacked the depth and bass of some more dedicated audiophile headsets, but it still sounded great, and was competitive with some more expensive dedicated audio devices. Using the ADAPT 560 to video edit on Adobe Premier Pro, I found the audio experience clear enough to accurately make audio adjustments with true results.
Battery life boasts up to 46 hours, which I found to be more or less my experience, using it for 3 full working days before requiring charge. Full charge time felt a little slow, around 3 and a half hours, but I felt this was a fair trade off.
Summary
The EPOS ADAPT 560 is a premium headset that is a comfortable all-day wear, easy to use, with its biggest strengths being the clarify of its mic, it ease of use, and its outstanding battery life. At £259, this is far from a budget headset, but could represent great value for an every day user.
Ian Westcott