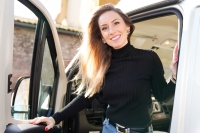 On 'International Women's Day, March 8th , Driving for Better Business launches a video interview series, celebrating individual women's achievements and good practice in gender equality among businesses across the Transport Sector.
The video series - entitled "Driving for Better Equality"- is hosted by Anne-Marie Penny, Senior Programme Manager, Driving for Better Business, and will interview women to discuss their success stories and experiences.
To demonstrate women's leadership in the industry, the series will begin with an interview with Alison Moriarty, Fleet Risk Director, DriiVE and will continue until International Women's Day 2022.
Interviewed as part of the campaign, Alison Moriarty, Fleet Risk Director, DriiVE, said:
"When I first started working with fleets, it was a very male dominated industry and still is in certain roles but it is getting better. The old perception that you had to have come from an engineering background and almost still have the oil under your fingernails is beginning to disappear, thankfully. I would encourage more women to come into the industry, it is varied, dynamic and never dull!"
Driving for Better Business is also raising awareness about International Women's Day events at Highways England around the theme of 'Choosing to Challenge'. Sessions include:
-       A panel session with the Cross-Government Gender Network on Monday 8th March at 12:00
-       And a Women in ITS Forum event discussing diversity and inclusion on Tuesday 9th March from 14:00 - 15:30
-       And an interactive event with Speak Out Revolution and Kathryn Gardner, Yorkshire and North East Regional Programme Leader, Highways England, sharing success stories from the past year on Wednesday 10th March from 10:00 - 11:30
Highways England is committed to providing an inclusive and connected working environment, in which individuals' differences are understood, valued and respected. The company supports and encourages a number of networks including 'Leading Women', a forum where women can network, share knowledge, and support each other with business challenges and inspire each other.
The forum is led by Mel Clarke, Customer Service Operations Director, Highways England:
"By celebrating International Women's' Day Highways England is supporting the industry in understanding and challenging the perceptions of women working in the sector, raising the visibility of female role models and celebrating the broad spectrum of qualities that make up a successful workforce, to promote equality and inclusion."
Commenting on the campaign, Anne-Marie Penny, Senior Programme Manager, Driving for Better Business and Senior Road Safety Policy Adviser, Highways England said: 
"On International Women's Day, we're celebrating individual achievements across the Transport Sector.
"Women are underrepresented in transport making up only 20% of workers against just under 50% of the UK workforce, I'm proud to work for a company that supports and encourages diversity and inclusion, and women at all levels in Highways England contribute to developing policy and delivering outcomes.
"As part of the Driving for Better Business programme, we recognise good practice and success and women are a key part of that story. It's a privilege to highlight the strengths, resilience, creativity and capability of women in this sector, not just for one day - on International Women's Day - but all year-round.
To help organisations in the driving for work sector strengthen their culture and demonstrate leadership, Driving for Better Business has a number of resources, which can be found here: https://www.drivingforbetterbusiness.com/resources/ [1]