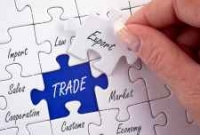 Against a backdrop of the COVID-19 pandemic and resulting economic volatility, it goes without saying that the last 12 months have been an incredibly challenging period for British businesses. According to a survey of the UK's small and medium-sized enterprises (SMEs) in November 2020, over half (52%) said they could be out of business in fewer than 12 months under the trading conditions of the time. However, with lockdown restrictions slowly easing, a return to normality is finally in sight - and this provides an opportunity.
Central to 'Building Back Better' and levelling up the country is helping UK SMEs - the backbone of our economy - to thrive not only at home, but also compete on the world stage by taking advantage of the significant export opportunities. Exporting does not simply mean sending goods and services overseas; successful exporting means increasing revenue, profitability, productivity and employment, as well as finding a whole new customer base.
Indeed, research shows that businesses that export are more productive, more profitable, and more innovative than their non-exporting peers, not to mention more resilient. That said, less than 10% of British companies export anything at all overseas. That is a missed opportunity, and as global markets reopen for business, the government's message could not be clearer - let's grow by exporting.
UK Export Finance (UKEF [1]), the government's export credit agency, was formed over 100 years ago as the world's first export credit agency to help the UK bounce back from the First World War and the Spanish flu epidemic. It is doing now what it did then, helping our nation's exporters sell to the world - even through an economic and humanitarian crisis.
Our mandate is clear: to unleash the export potential of UK businesses at a time when it is needed most by ensuring that no viable UK export fails for lack of finance or insurance. In short, UKEF helps companies to win, fulfil and get paid for export orders.
As the pandemic hit, UKEF was able to do that by stepping up to huge demand for trade finance support to ensure SMEs could continue to export.
UKEF's trade finance support allows exporters, and suppliers to exporters, to access finance from banks and other financial institutions to enable export activity where otherwise they may not. This helps UK businesses to go global and take advantage of free trade agreements and access the working capital or protection they need to export during the pandemic.
By way of example, we helped Brighton-based Peopleforce Recruitment after its credit insurer withdrew cover for a £2 million contract with an aircraft maintenance company in Estonia after the outbreak of COVID-19 and global travel restrictions were put in place.
The company needed to ensure they had financial protection in place to cover advance payments to 50 contractors in Turkey and 100 contractors in Estonia worth hundreds of thousands of pounds. We put in place a bespoke Export Insurance Policy (EXIP) to bridge the financing gap.
As well as insurance against the risk of non-payment, our support is also available in the form of guarantees under our Bond Support, Export Working Capital, Export Development Guarantee and General Export Facility (GEF) schemes.
Our recently launched GEF scheme, developed in partnership with the UK's leading commercial banks, allows UKEF to guarantee 80% of any facility offered by a bank to finance the costs of exporting. This frees up working capital that businesses can then use for everyday costs linked to exports, and to scale up their business operations.
Crucially, GEF allow businesses to fulfil multiple contracts, pay for labour costs and build their inventory - making a huge difference to entrepreneurs who need the financial backing to 'go global', while also supporting thousands of jobs and livelihoods across the country.
GEF is a game-changer and is already starting to bear fruit. Take, for example, Simworx, a tech- company based in the West Midlands, which became the first UK business to take advantage of the facility.
A specialist in the design, development and manufacture of attractions for the global theme park and entertainment industries, Simworx has recently completed projects in countries such as Malaysia, New Zealand and Vietnam. The seven-figure facility will provide additional working capital, helping to ease pandemic-related cash flow constraints and enabling it to raise advance payment guarantees to secure and complete significant overseas contracts worth typically between £1m and £8m.
With exports representing 90% of Simworx's annual turnover, the ability to raise payment guarantees will prove critical for Simworx and its future expansion plans. The business has built a strong
presence in the Far East, Middle East and Northern Europe for its advanced simulation technology products and has identified these 'emerging markets' as key growth areas for the business post Covid-19.
While Simworx is the first SME to have been backed through the GEF, it certainly will not be the last as GEF transforms UKEF's offer to smaller businesses, encouraging them to export and take advantage of new free trade agreements.
But we will not stop there. Innovation from UKEF to ensure the best support for SMEs is happening all the time - spurred on by a 26 strong network of export finance managers located around the UK who work closely with local bank representatives, industry bodies and businesses to ensure the right support is provided where needed.
This includes providing free and impartial consultations for exporters and helping companies to check they are getting the appropriate export finance support and, if not, guiding them on how to bridge any gaps.
Optimism has not been a word in general circulation over the past year, but we have learned that we can achieve a great deal even in the face of adversity. Before the pandemic struck, the UK was the only top-ten exporting nation to grow its exports in 2019 and UKEF is determined that success continues, as recovery does. At the heart of this endeavour is an unwavering support for UK companies, ensuring that the skill, entrepreneurialism, and innovation that have kept businesses going can propel them to even greater outcomes overseas. Indeed, just as trade helped us survive the past year, it will allow us to thrive in the coming decades.