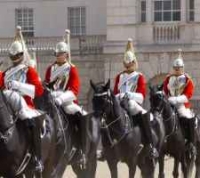 New Business takes a look at one company that has invested over thirty years in theirs - The British Heritage Chauffeur Tours, currently run by John Calthorpe
In his capacity as a musician/performer/director, Michael Frye helped negotiate many famous series of film recordings and was at the embryonic stages of Steven Speilberg's Star Wars trilogy, Superman, Indiana Jones, Aliens and others.
It was while travelling the world and experiencing other cultures that Michael became more and more aware of the wonderful history and culture that his own country had to offer and decided to make a major change in his life. Together with his wife Pam, they established the British Heritage Chauffeur Tours [1] (BHCT) in 1989, to create the most unique, bespoke tours, filled with as much fun, culture and gastronomic delights as possible.
John Calthorpe, a long term customer and experienced travel operator, took over operations of BHCT at the invitation of the Fryes during 2020, when the founders decided to step back. The plan was to run BHTC alongside his own inbound travel business, Prestigious Travel, that he founded 15 years previously, and the two companies working with each other long term during this period.
John Calthorpe comments: "The last 14 months have been the hardest ever experienced, even when first starting the companies and getting ourselves known, we were at least active, hopeful and excited about the future. We now sit here watching many bookings cancelled, even those that were moved from last year. We hope that those we worked with have managed to survive also. However, we are always optimistic and have used the time wisely, with business development and keeping in contact with as many of our suppliers and clients as possible. We are a close-knit community, that rely on each other."