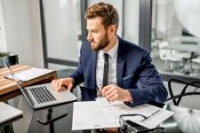 The importance of efficient invoicing
A solid invoicing structure is incredibly important for small businesses to have. However, lots of SME's struggle to establish a suitable invoice even though its one of the most important operations to correctly manage cash flow in and out of the business.
If a business takes its invoicing seriously and has a systematic approach towards it, their customers will be more prompt with their payments. Businesses that struggle to be forthright with their invoices will find customers delaying their payments and poor management of their cash flow.
What is invoice management?
Invoice management is a process where companies can track and pay their invoices on time [1]. This process involves the invoice being sent from a third party, the payment being made and then the company being notified, and the details being kept in their records.
However, with invoice management there can often be many people involved at any one time, leaving room for error. Usually, an invoice will be sent to a given point of contact - this often won't be the dedicated financing team so this invoice then has to be forwarded on, meaning that there could be a delay, or the message might be dismissed or forgotten about and not reach the intended viewer at all. If the viewer notices any issues with the invoice, it will then be sent back to be rectified. This elongates the entire process causing time and money to be lost.
What are the best practices to follow when sending an invoice?
When sending over an invoice, it's best to use a predesigned template to ensure that you aren't missing out any important sections that could result in the invoice being bounced. There are many different invoice templates to choose from online. [2]
Add each product or service onto a separate line, along with a thorough description so that the person paying understands exactly what they are being invoiced for. Try to include the date of purchase too where possible.
At the bottom of your invoice, somewhere clear to see, write the grand total for your expenses and include any tax or discounts at this stage. Remember to note this down beside it. Don't charge for things that haven't been pre-agreed as this can cause a loss of trust between you and your client.
Don't forget the important details such as your logo, date of invoice, and date that the invoice is due. If you're a large company with many invoices coming and going throughout the business be sure to add a reference number so that you can quickly find details of this transaction if need, be.
Before you send off your invoice, be sure to write a pleasant email or letter alongside it thanking your client for their custom [3]. Also, save a copy of the invoice for your own records. Remember to follow up your invoices if you haven't heard back for a while and it's getting close to the invoice deadline date.