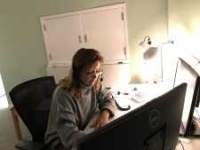 This is to ensure volunteers can continue to support callers whilst reducing the risk of catching COVID-19.
Part of the local community since 1964, Samaritans' Reigate branch is one of over 200 branches across the country. The incredible efforts and dedication of Samaritans volunteers have meant that the charity has maintained its 24/7 service since the start of lockdown, with volunteers across the UK and Ireland clocking up more than one million hours listening to those who are struggling to cope during the pandemic.
Since the start of the pandemic, Samaritans Reigate has been applying strict guidelines with regard to hygiene standards and social distancing. In recognising the importance of maintaining its levels of caller support through a team of over 90 listening volunteers, Samaritans Reigate requested the help of local HVAC and air purification specialist, Better Indoors, to install an innovative Active PIV solution, which combines mechanical ventilation that increases the air changes in line with COVID mitigation guidance with active air purification technology, to instantly eliminate harmful viruses and bacteria, including SARS-CoV-2 at the point of transmission.
Using no chemicals or harmful substances, and requiring virtually no energy, the active air purification technology works by replicating Earth's natural air cleaning processes indoors. It does this by producing and maintaining minute equilibrium concentrations of hydroperoxide molecules throughout the indoor air space. When these active molecules come into contact with microbials, they break them down and destroy them and then revert to harmless water vapour and oxygen. The technology produces 1 quadrillion hydroperoxide molecules every second, quickly killing any airborne virus or bacteria, including COVID-19.
To ensure widespread coverage of the building, Better Indoors installed a multi spigot ducted system on the ground floor covering all of the compartmented spaces including the client waiting area, together with and a loft mounted system for the first-floor open plan office. 
Completely safe for people to work and live around, the Active PIV solution provides continuous 24/7 protection without disrupting productivity or negatively affecting energy efficiency - one of the consequences of increased ventilation air changes.
Andrew Hobbs, Founder and Director of Better Indoors confirmed:
"We are delighted and honoured to assist The Samaritans Reigate whose forward thinking leadership wished to create the safest possible indoor environment for their volunteers and visitors. Our retrofit solution increases ventilation fresh air change rates and RGF's integrated active technology creates an extra layer of "continuous point of transmission protection" that is not possible under the current guidance.
Kevin Siggery, Branch Director for Samaritans Reigate, added: "Safety is our first priority. As essential workers, our volunteers continued to work under difficult conditions, where, to maintain fresh air ventilation, we often had to leave windows open, even through the coldest nights, to mitigate any risk of stale and potentially infection-carrying air. Whilst we recognise the need to rigourously follow Covid precautions, this is an important step in caring for volunteers so that they are there, in turn, for our callers."
Originally invented in the late 1990s by RGF Environmental Group, the active air purification technologies have been thoroughly verified for safety and efficacy by nationally accredited independent labs and testing bodies in the US and by other Governments. Experiments include the "sneeze test", which proved the 3 foot instant elimination zone and 99.9%+ inactivation of a wide range of highly infectious viruses and bacteria including COVID-19, SARS, H1N1 or 'Swine Flu', Norovirus, MRSA, Bird Flu just to name a few.
Originally founded in 1953, Samaritans is now supported by over 20,000 volunteers, across 201 branches UK wide,
For more information, please visit:
Better Indoors [1] 
Samaritans [2]