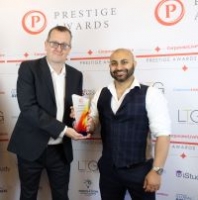 Gary Hall (left) receiving the award on behalf of Certain Bridge
Held on an annual basis, the Corporate Livewire Prestige Awards recognise small and medium-sized businesses across the globe that have proven to be the best in their market over the last 12 months.  
Highly commended by the Judges for its transparent and flexible approach to client Bridging requirements, its ultra-fast speed of delivery, service and ability to issue Bridging funds within as little as 24 hours, Certain Bridge is fast becoming a prominent UK's providers of highly specialised bridging finance for business purposes.  
Established in early 2018 and developed by partners Gary Hall and Charles Oates, Certain Bridge is built by a highly experienced executive team and unlike brokers or peer to peer and crowdlending providers, all loans are 100% made from its own financial resources.  
Winning the title of 'Bridging Finance Specialists of the Year' lays solid foundations for the firm's longer-term objective to rapidly increase market share and become a well-known bridging lender operating across the UK, as confirmed by Director, Gary Hall: 
"Charles has a vast career in Industry; substantially in Property, Finance, Mergers & Acquisitions not only here, but overseas. I worked in the Property Finance Industry for over 20 years. Charles and myself were already collaborating together on projects when we decided that we could make a difference to the Bridge Finance sector, by launching Certain Bridge with our executive team. We launched and continue to operate with the ethos of not requiring any upfront fees, valuations, legal' s etc. We adopt an empathetic and tailored approach to each request for Bridging finance; however, it is the Ultra-fast speed of delivery which is our true competitive USP advantage which sets us apart from the rest." 
We are, therefore, delighted to have been acknowledged for our innovative approach to the Bridging market by the Prestige Awards judges and look forward to continuing to build on our success over the coming months and years."  
Headquartered in Cheshire, Certain Bridge prides itself on its holistic approach to providing ultra-fast bridging finance, providing short term secured loans with repayment between three and twelve months.  
For more information, please visit -  Certain Bridge [1]